As someone who has worked in food security for 20 years, Katie Leary Sebastian knows a lot about food and where it comes from. But at Red Wiggler, she's been learning some new lessons.
"I didn't have a lot of experience working with people with developmental disabilities, and I will admit I was a little nervous at first," she explains. "But that went away in about 5 minutes, because of how the staff have structured a program that is so inclusive, meets everybody's needs, and really focuses one-on-one."
Katie had been following Red Wiggler's progress since her oldest child visited with a group from Catoctin Quaker Camp several years ago. In March of 2017, she joined the Red Wiggler Board, and that fall, she began volunteering every Tuesday.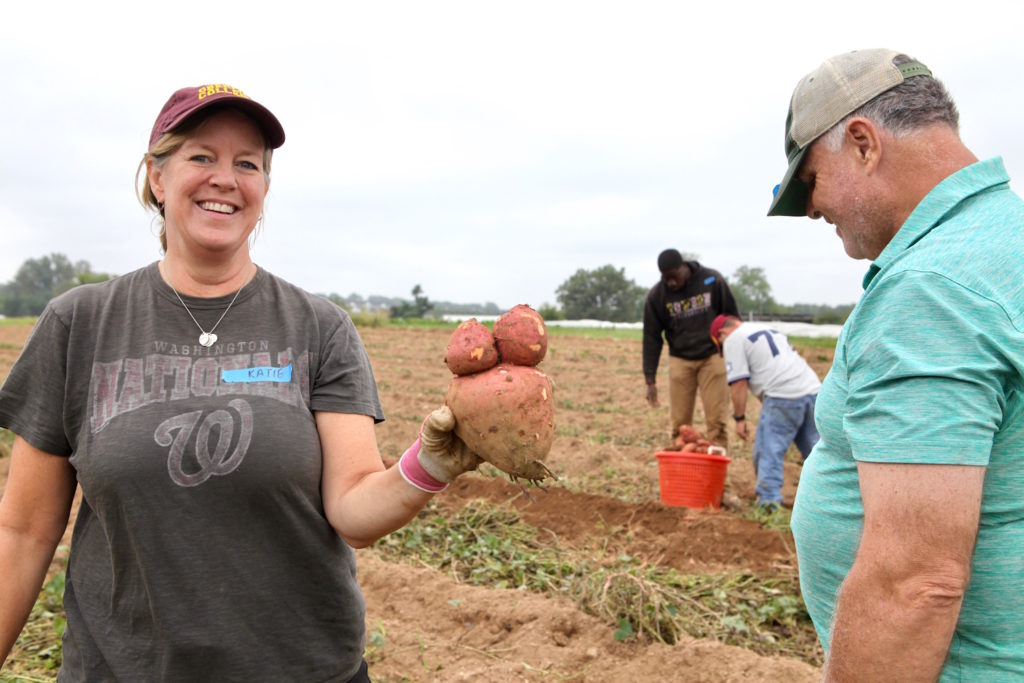 Katie and Jerry appreciating an unusual sweet potato.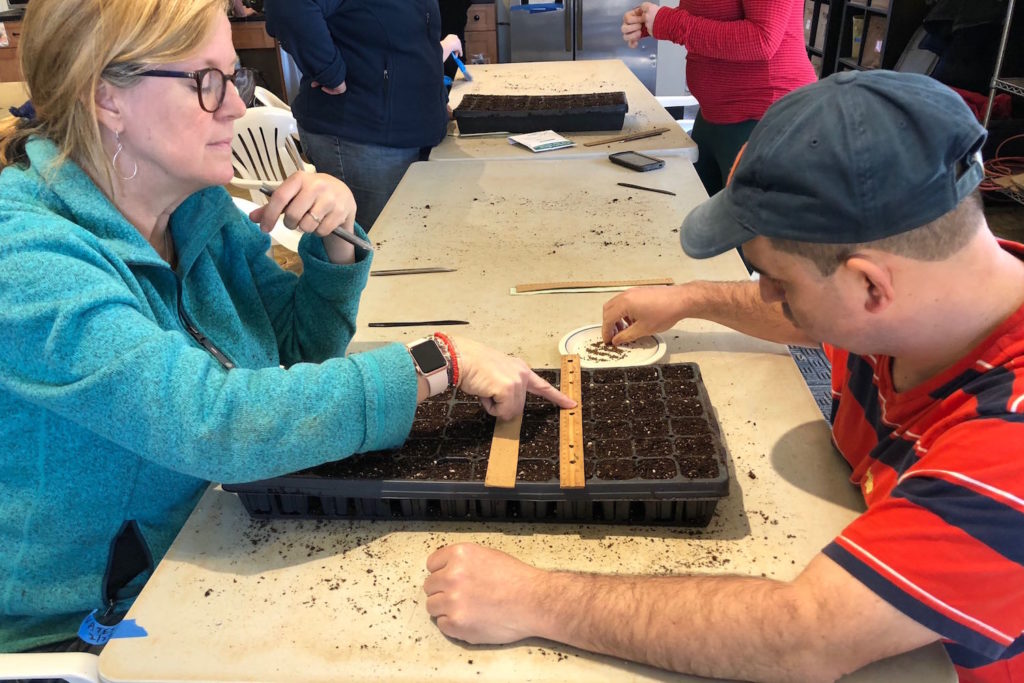 Nuno and Katie carefully seeding tiny kale seeds.
"Every Grower is paired with either their coach or a volunteer, and they're put in a position of teaching a lot, which is very empowering," Katie states. "I've learned that people, when given a task and trained well, can often rise to the occasion. Volunteers, Growers — everybody. Red Wiggler nurtures a community while nurturing a group of people that might not normally have job opportunities."
Because Red Wiggler staff move people around so they're always trying new tasks, Katie has worked with every Tuesday Grower in some capacity.
"It's one of my favorite things, coming out here, chatting with the Growers, learning about their lives. For me, that personal connection is so important."
One connection has been years in the making.
"My son remembers working with Jerry during that camp visit years ago," Katie recalls. "It's kind of a neat connection, that he made such an impression on my son, and now I get to work with Jerry every week."
Some of Katie's favorite jobs on the farm include harvesting and banding vegetables — though she likes any task that lets her get her hands dirty.
"It's good work but it's also a break," she says. "It's very peaceful and it's a different pace, even though you're working hard. It's just very meaningful to me to come out here."