Board Bios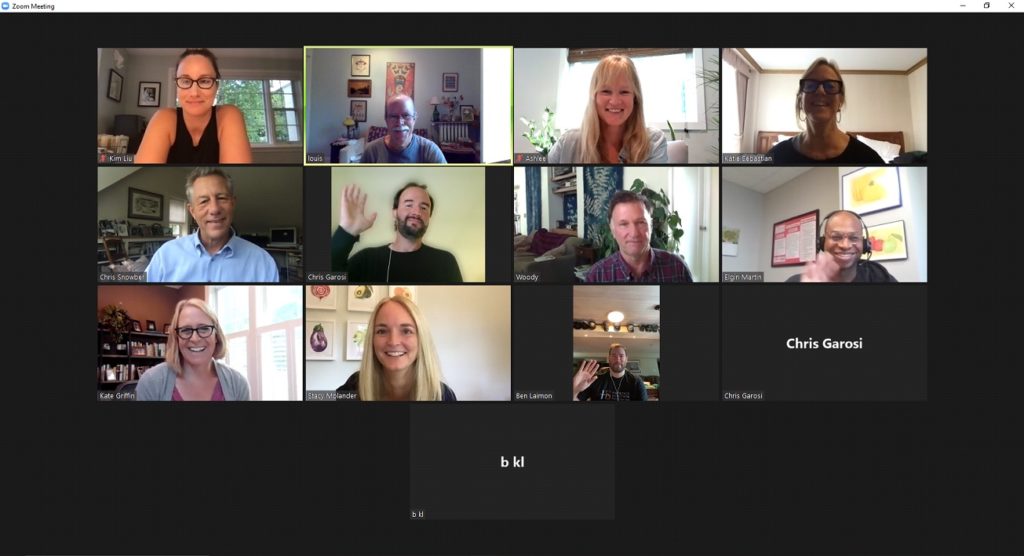 Chris Garosi (Treasurer. Joined Board in December 2017.) brings 20 years of experience in a variety of finance and business operations roles in organizations both large and small. Beyond his full-time job as Director of Accounting & Financial Systems at Mosaic, he is also a partner in a real estate investment firm. Chris joined the Board at Red Wiggler after a successful three-year stint as Treasurer of a non-profit in Garrett County, MD which built a no-kill animal shelter during his tenure. He earned his MBA from the Smith School of Business at the University of Maryland. Chris lives in Clarksburg, MD with his wife and two children, and his family is a member of the Red Wiggler CSA.

Kate Griffin (President. Joined Board in July 2021.) works in the Aspen Institute's Financial Security Program, leading an effort to establish a National Financial Inclusion Commission to ensure all Americans can achieve financial security. She has spent 20 years working in a range of non-profits and financial technology companies focused on making financial services work better for low-income and marginalized people around the world, including Prosperity Now and Grameen Foundation. She was introduced to Red Wiggler via Leadership Montgomery and is excited to leverage her experience building networks of like-minded organizations to Red Wiggler and the Care Farming movement. Kate holds degrees from American University and Kenyon College and lives in Bethesda with her husband and two daughters.
Kim Guay (Vice President. Joined Board in October 2020.) first came to the farm in August of 2018. Her children were looking for an unique SSL opportunity (somewhere they could commit to, learn from, foster relationships, etc.). She was so impressed, she decided to start volunteering immediately. Prior to solely being a household CEO, she worked for 13 years at Marriott International's headquarters in various paralegal roles within the law department. Before Marriott, she worked at law firms in downtown DC. Working in the legal field has positioned her to be an asset to the Board when it comes to research, processing and organizing information, and writing and editing skills. Kim is originally from the mid-west and loves the outdoors. She lives in Bethesda with her husband, 2 children, and 2 kitties.
Ben Laimon (Joined Board in December 2019.) brings over 15 years of experience in strategy and business development in the contract research market with organizations including Westat and RTI International. He has a passion for innovation and has led a group of data scientists focused on applied solutions leveraging emerging technologies. He is also active in venture capital as a venture partner with NextGenVP. Ben joined Red Wiggler to carry forward the values gained from growing up on a farm in southern Michigan. He has an MBA from the Robert H. Smith school of business at the University of Maryland College Park. He lives in North Potomac with his wife Lauren and two daughters.

Elgin Martin (Joined Board in October 2020.) Elgin joined the Red Wiggler staff in 2018 as Development Coordinator. On staff, he supported the organization's grant seeking, managed the annual Harvest Celebration, and executed the first Mid-Atlantic Care Farming Summit. He has always had a passion for nutrition access and connecting people to the source of their food. A passion he continues to nurture as a member of the Development and Communications team at Manna Food Center. When not at Manna, he practices yoga and supports arts & cultural institutions in the DMV area. Elgin is an alum of Kenyon College. 
Stacy Molander (Secretary. Joined Board in December 2017.) is the Chief Operating Officer at the Partnership for a Healthier America (PHA), which works with the private sector and PHA Honorary Chair Former First Lady Michelle Obama to end the childhood obesity crisis within a generation. Stacy was first introduced to Red Wiggler in 2015, when she presented Woody with an award at the Maryland Workplace Health and Wellness Symposium. Prior to PHA, Stacy was with Pierce, an experiential marketing agency where she led client service teams in the strategic design and execution of marketing programs for clients. She began her career on Capitol Hill in former U.S. Senator Sam Nunn's office and in television publicity at Discovery Communications and CNN. She lives in Kensington with her two children, Hannah and George, and her husband Gregg.

Thomas O'Gara (Joined Board in January 2022.) is Vice President of Culinary Development for Tessemae's, a flavor-forward food company and maker of the top-selling organic salad dressing in the United States. Tom plays a pivotal role in research and development for Tessemae's innovation pipeline—ideating, researching, creating and testing new products and brand extensions. Additionally, he is responsible for product optimization, regulatory compliance, and contributing culinary content for Tessemae's sales and marketing. Before joining Tessemae's Culinary team in 2020, Tom had amassed 20+ years of experience, leading and rolling out culinary programs for global, dynamic organizations, while contributing time and talent to educational and charitable efforts. His background includes serving as a member of the Food & Beverage team that developed the playbook for Marriott's Continental Operations - Americas Team for North, South, and Central America; serving as an expert in restaurant and bar renovations and hotel openings; and providing pro bono consultative services, culinary planning and production talent, for charitable community fundraising and educational initiatives. Tom is passionate about finding the best restaurants and bars in every city he visits, engaging with fellow chefs and lovers of food on social media, and powering through Tough Mudders, CrossFit workouts, Peloton rides, and pavement-pounding runs. Tom resides in Maryland with his wife Lisa and son Brody.

Chris Snowber (Joined Board in July 2021.) is the parent of a Red Wiggler Grower, Iya Snowber, who has been working at the farm since 2012. He is a firm believer in the mission of the farm and can personally attest to the life-changing impact that working at Red Wiggler can have on an individual with intellectual disabilities. Chris is a principal, along with his wife, Cynthia Hamilton, of the residential design firm, Hamilton Snowber Architects and is committed to supporting the farm's built environment. Chris has previously served on the founding board of Integrated Living Opportunities (ILO), a non-profit organization established to provide housing and other services for adults with intellectual disabilities and was one of the founders of the pro-bono architectural services group Community Design Services (CDS), affiliated with the DC Chapter of the American Institute of Architects.

Kristin O'Keefe (Joined Board in January 2023) Working at the intersection of policy and communications, Kristin helps mission-driven organizations and businesses grow and market more effectively through content strategy, storytelling and community connections. She's designed industry and advocacy campaigns for enhanced funding, including multiple Montgomery College campus expansions. Kristin helped elevate the Montgomery County life sciences ecosystem through targeted marketing and earned media, and her writing has been published in The New York Times, The Washington Post, Your Teen Magazine and more. A native Marylander, Kristin and her husband Emmett spend weekends exploring the state's hiking trails, eateries and breweries—including some great ones near their home in Kensington. They also love traveling, especially when they're visiting their daughter in Pennsylvania, son in California and family in Minnesota—all perfect spots for more Care Farms!
Hannah Breckenridge (Joined Board in November 2022) is a clinical social worker and owner of OCD DC, a private practice that specializes in helping people impacted by OCD & Anxiety. She also has a sub-specialty working with Autistic and neurodivergent individuals with OCD & Anxiety. Additionally, she helps moderate the Therapists with OCD Special Interest Group. Hannah loves all things outdoors and can often be found digging in the dirt in between clients. She is a proud board member of Red Wiggler, where so many of her passions intersect. Hannah is a graduate of the University of Maryland School of Social Work and George Washington University. She currently lives in Rockville with her husband, daughter, and dog, Elsa.