Education Programming, School Visits, and Tours

Fall 2023 Update
Red Wiggler currently has no open tour slots for this fall. If you'd like to request an educational visit for spring/summer 2023, please submit an official request through our RWCF Group Visit Interest Form. We will follow up with you to discuss your group's needs and potential availability.
For more information, email Becca, Volunteer & Grower Coordinator, at becca@redwiggler.org.
View the virtual farm tour video from the comforts of your home and learn about us.
Audience: Appropriate for all.
Basic Tour
45 Minutes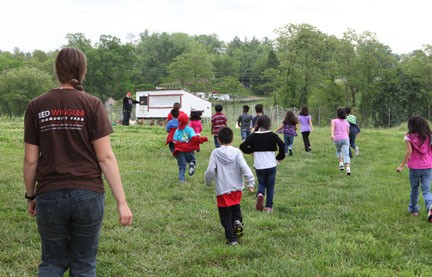 A complete tour of the farm including the fields, greenhouse, beehives, and solar house.
Discussion of our mission, programs, sustainable farming practices, and environmental stewardship.
Audience: Recommended for ages 12 and up.
Suggested program fee: $75 for up to 25 participants.*
Capacity: In order to provide every K-12 student with a hands-on experience, our tour number is limited to 20 students per tour. 
For adults, the maximum is 25 participants.
Sensory Exploration Tour
1 Hour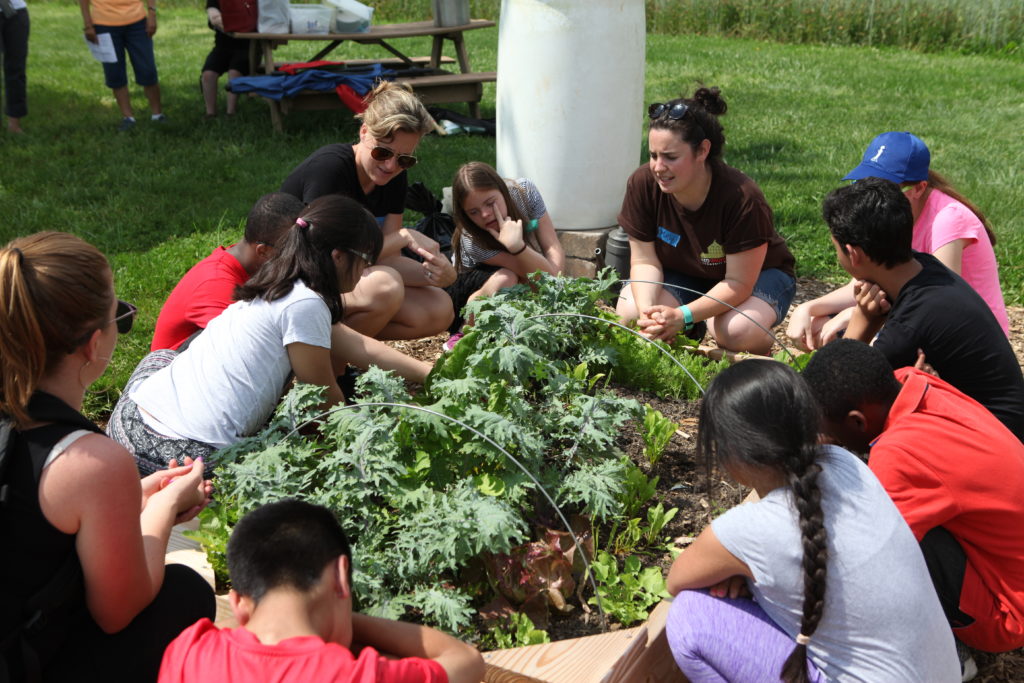 Tour of the farm including the fields, greenhouse, beehives, and solar house.
Follow your senses through the field, tasting, smelling, and observing along the way.
Search for insects and pollinators.
See up close what it takes to grow healthy and sustainable food.
Take a trip to our Discovery and Pollinator Gardens to explore our native plants, herbs, and flowers.
Audience: Ages 5 and up.
Suggested program fee: $75 for up to 15 participants.*
Service Learning Visit
2-3 Hours

A brief introduction to the farm.
2+ hours of service in our fields or greenhouse. Activities include harvesting, planting, weeding, and general field maintenance.
Audience: Appropriate for ages 12 and up, maximum group size is 12 participants.
Suggested program fee: $50 for a 2-3 hour program. 9:15 am - 12:00 pm or 12:45 pm - 3:00 pm (plus the option to join us for lunch).
* As a non-profit, the suggested program fee is an important part of how we cover administrative and staffing needs for your visit. However, no group will be turned away due to lack of funds. Those who pay the full suggested fee, or more, help to subsidize those groups that are unable to pay the entire amount. Fees can be paid via cash or check the day of or online. Thank you for your understanding and support.
_____________________________________
Let us know your interests! We are happy to address organic and sustainable farming methods, food systems, plant cycles, nutrition, compost, our solar home, our relationship to the wetlands, and any number of other topics that might resonate with your group.
Tours and volunteering take place outside in our 12 acres of fields and parkland. This means participants should be adequately dressed and prepared for the weather. We welcome groups to stay for lunch from 12pm-1pm with our Growers, staff, and volunteers.
_____________________________________
Hours of Operation:
Red Wiggler Community Farm is open 9:00 am - 3:00 pm, Monday through Friday.
Facilities:
We offer a water fountain and two indoor restrooms on-site, an outdoor port-a-potty, and outdoor seating for lunch and group activities. Our barn can also accommodate a small number of individuals for indoor seating and education.
What to Bring:
- Signed  Memo of Understanding
- Refillable water bottle
- Closed-toe shoes, long pants, hat to shade from the sun
- If staying for lunch, participants should bring their own lunch.
_____________________________________