As everyone on the East Coast is well aware, freezing weather and winter precipitation have continued into the usual beginning of our farming season. Fortunately, we have used the delay to work on several pre-season projects.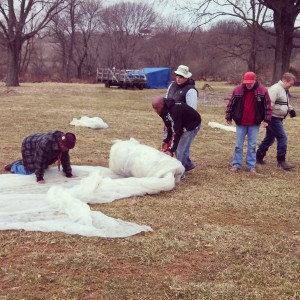 On a farm, planning, reflection, field preparation, and inventories before the season starts are just as important as weeding greens and harvesting tomatoes at the season's peak. We kicked off spring last week with a visit from Sidwell Friends School's fifth-and sixth-graders, who helped us spread compost on our fields, check our deer fence for any damage, and inventory our entire row cover supply.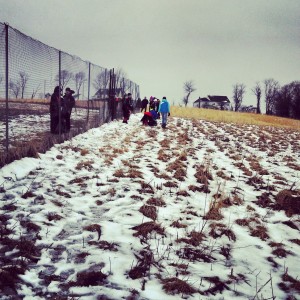 We use row cover, a thin white fabric, to protect our plants from frost and  keep out unwanted pests while letting in sunlight and rain; the fabric forms a kind of mini-hoophouse over a row of vegetables. Because the fabric is so thin it tears easily. Here is some of the damaged row cover we are donating to area gardeners (if you would like a piece for your garden, get in touch soon!):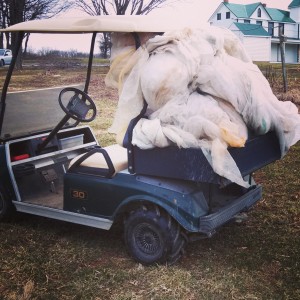 The Growers finished off our inventory at the end of last week. Tyler was glad to be out and working on a relatively warm day!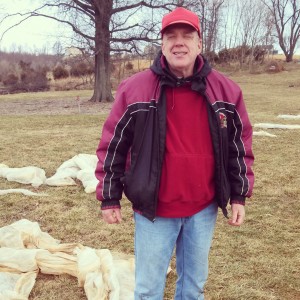 Of course, we have also been working in the greenhouse, seeding lettuce, kale, chard, tomatoes, and flowers, to name a few. Our greenhouse and root cellar are filling up quickly, so we'll need to get out planting soon.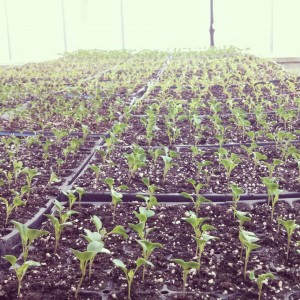 Our volunteering season will start on April 1st, so we are looking forward to having lots of help both in the greenhouse and out in the fields. There will be plenty of planting, thinning, weeding, compost-spreading, and other field work to do over the coming months!