It would be easy to assume that the staff and programming at Red Wiggler have gone into hibernation along with the fields. While we're enjoying this change of seasons, we have been busy preparing for our inaugural winter programming: growing microgreens in the greenhouse.
In January and February, we will be hosting students from the Ivymount School and Seneca Valley's Learning for Independence Program to work in the greenhouse. Growing microgreens involves seeding lettuce, radish and other vegetable seeds into trays, watering them periodically, and harvesting them after just two to three weeks. These tender, nutritious greens will be delivered to group homes and can be also used in cooking class at the farm.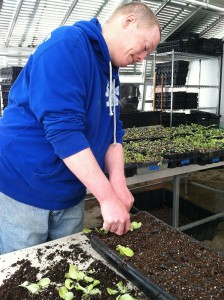 Deputy Director Kara Desmond, who recently completed a horticultural therapy certificate, will employ her recently gained knowledge to help students develop vocational, social, and physical skills through horticultural activities. At the same time, several Growers will be working with the students, training them in soil-mixing soil, watering, and other farming techniques that they have gained over their years of employment here.
Red Wiggler is proud to be able to offer winter programming for students, and year-round employment for Growers, after many years of being limited to seasonal, nine-month programming. Check back here for updates on what we are growing over the next few months!