It's #MeetTheFarmerMonday – Meet Red Wiggler Community Farm's 2022 Crew Leaders and Interns! Our Crew Leaders (Care and Maddy) and Interns (Alex, Kira, Noemi, and Tyfani) are important members of our team, and they work side-by-side with individuals of all abilities growing, harvesting, and maintaining the fields every day.
Check out their bios and photos below, and and if you see our Crew Leaders or Interns, be sure to say hi to them!
CREW LEADERS: CARE & MADDY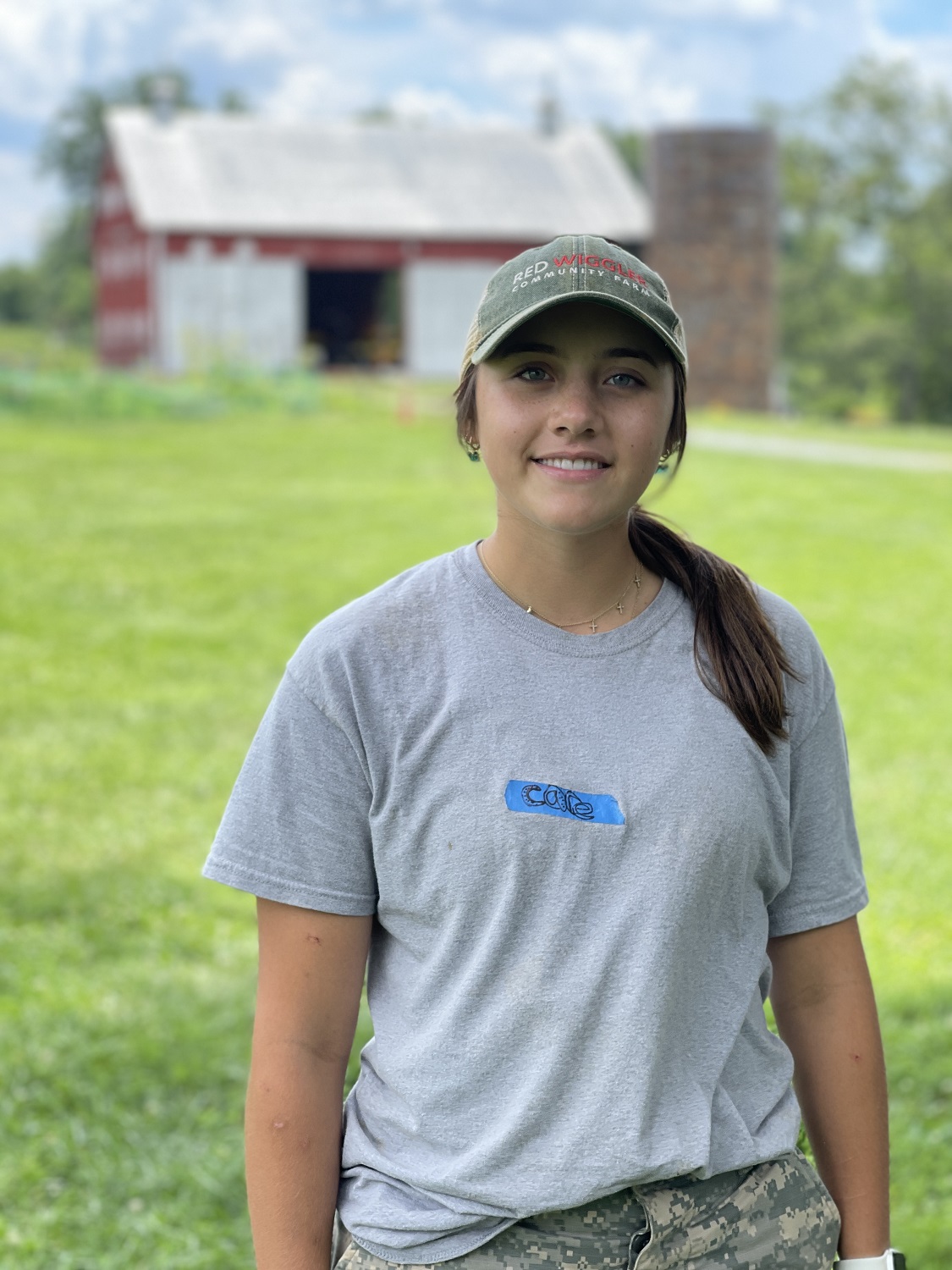 CARE
Care is a rising sophomore at the University of Maryland, majoring in Environmental Science and Policy. She started at Red Wiggler as a volunteer last summer. Care has always had a passion for the outdoors as her family enjoys camping and she has lived in multiple states on the East and West coast. Red Wiggler has already taught Care a lot more than just about agriculture, the most important lesson being that cultivating land and relationships takes patience. Care's favorite moments at Red Wiggler can't be confined to one task, as any moment when her team is working together in harmony is her favorite. When off the farm, Care can be found running, hiking, or attempting to make a new recipe to share with her family. In the future, Care hopes to pursue agricultural or environmental law to continue to care for the environment and all its beings.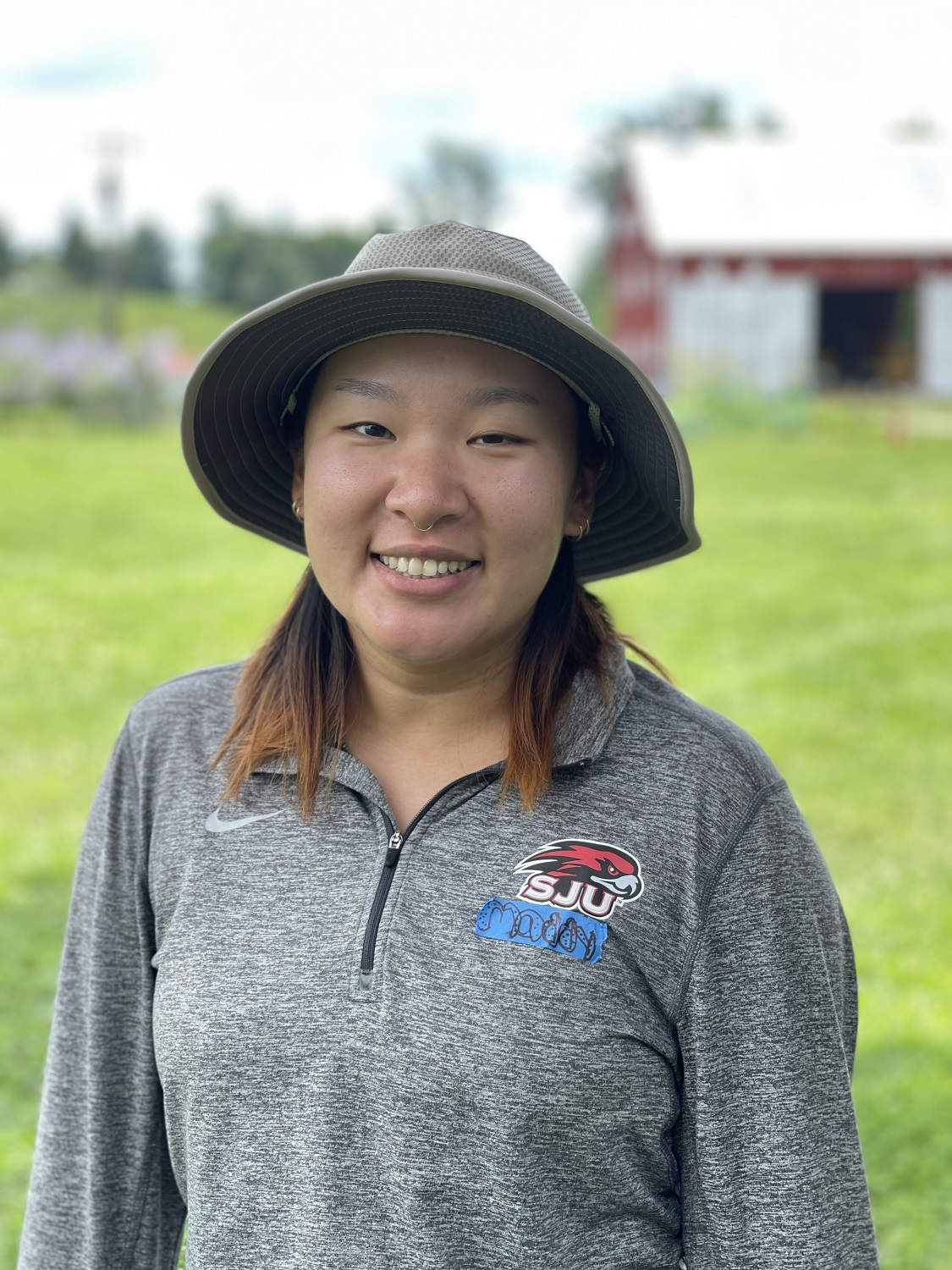 MADDY
Maddy is a former Seasonal and Care Farming intern from the 2021 growing season. Though she had minimal prior farming experience, growing up watching her grandparents tend to their vegetable farm in the backyard, she has always had an interest in nature and environmentalism. Maddy has enjoyed all the skills and knowledge she has picked up about sustainable farming, new vegetables, and working alongside others in a community setting while at Red Wiggler. She has also loved being able to share her passion and newfound knowledge through the Volunteer in Training program and school tours! Maddy will be joining the Urban and Environmental Policy and Planning MA program at Tufts University in the fall to expand her mind to help change the world for the better!
INTERNS: ALEX, KIRA, NOEMI, & TYFANI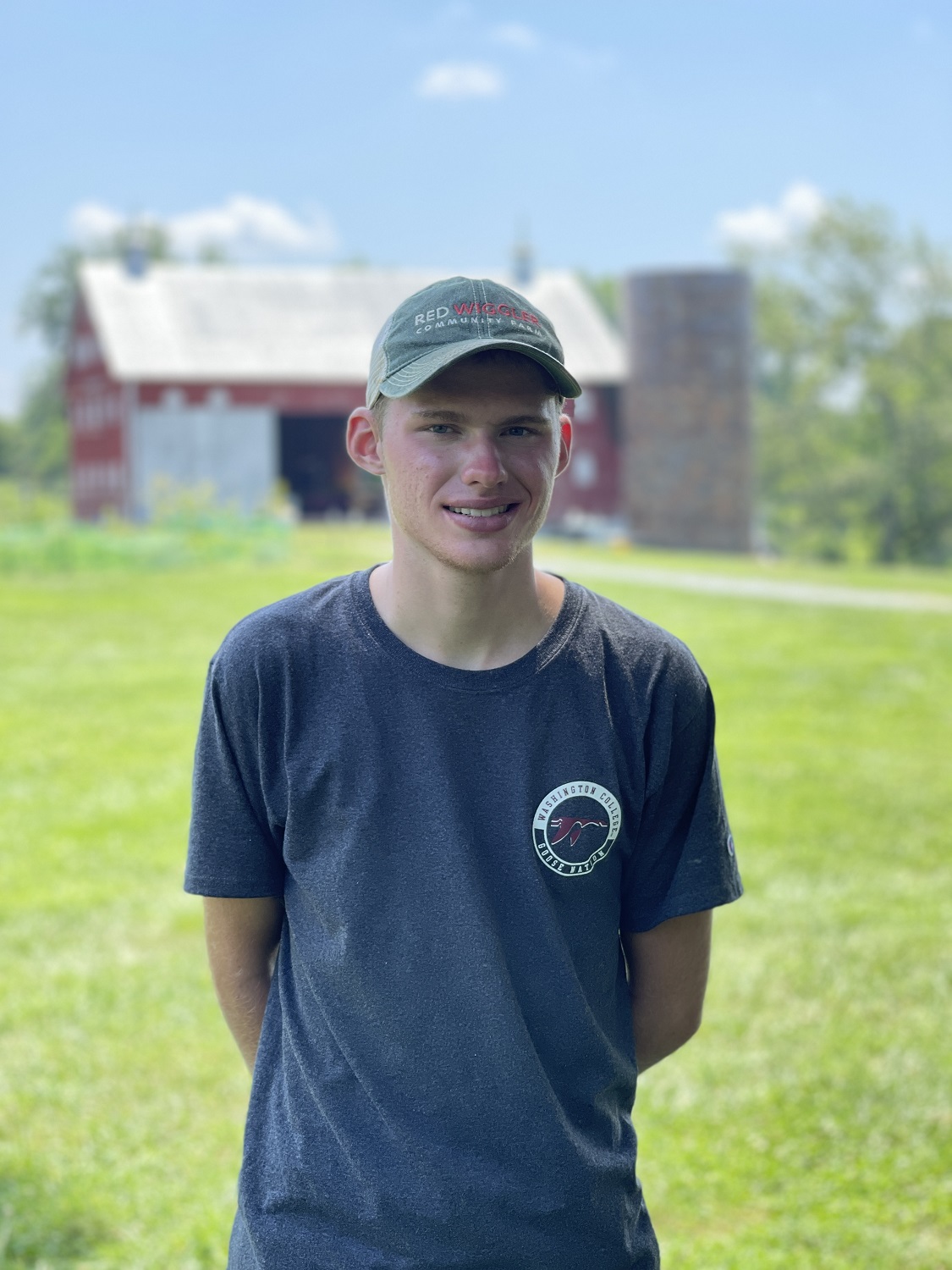 ALEX
Alex is a rising junior at Washington College who is majoring in Environmental Science. He is originally from Olney, MD, and he commutes from Olney this summer. He heard about Red Wiggler from his mother, who learned about it through her job as a Para-educator at South Lake Elementary School. He highly enjoys exploring the outdoor world, which has been a major influence on why he wants to study the environment in order to make the world more sustainable in the future. He also likes to draw, paint and do photography work that documents the outdoor world. After college, he plans to go to grad school and study either water quality or sustainable farming.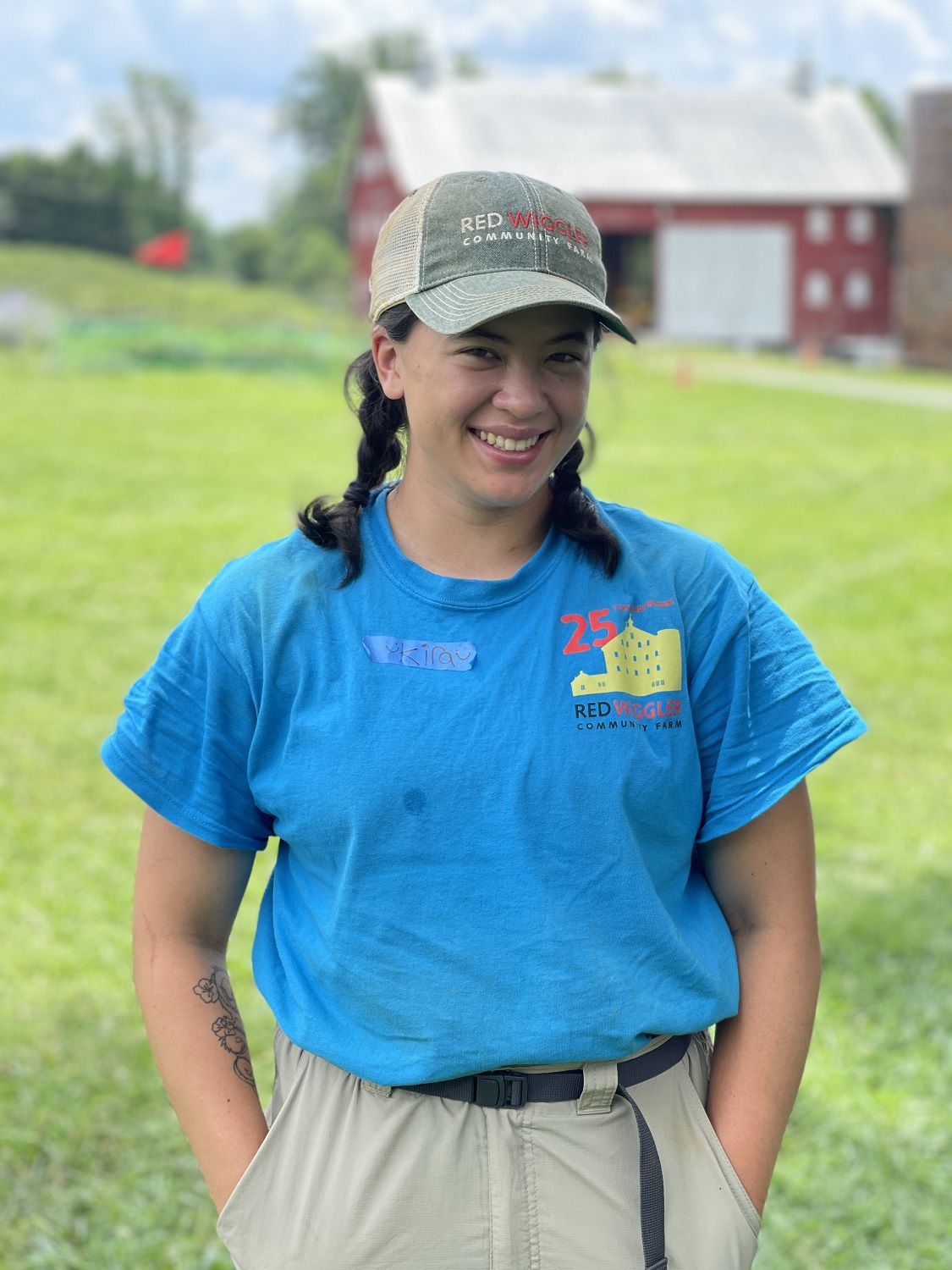 KIRA
Kira is going to be a rising junior at University of Maryland, Baltimore County, transferring there in the fall from Montgomery College to major in Global Studies, focusing on the environment. She first discovered her love for nature running around the park behind her house and through nature documentaries (primarily those narrated by David Attenborough). She loves working outside at Red Wiggler (even in the rain!) and is forcing herself to enjoy the heat of summer. When she isn't on the farm, Kira enjoys knitting and crocheting, playing volleyball, or spending time with her pets. She looks forward to sharing her love for Red Wiggler with anyone and everyone who will listen!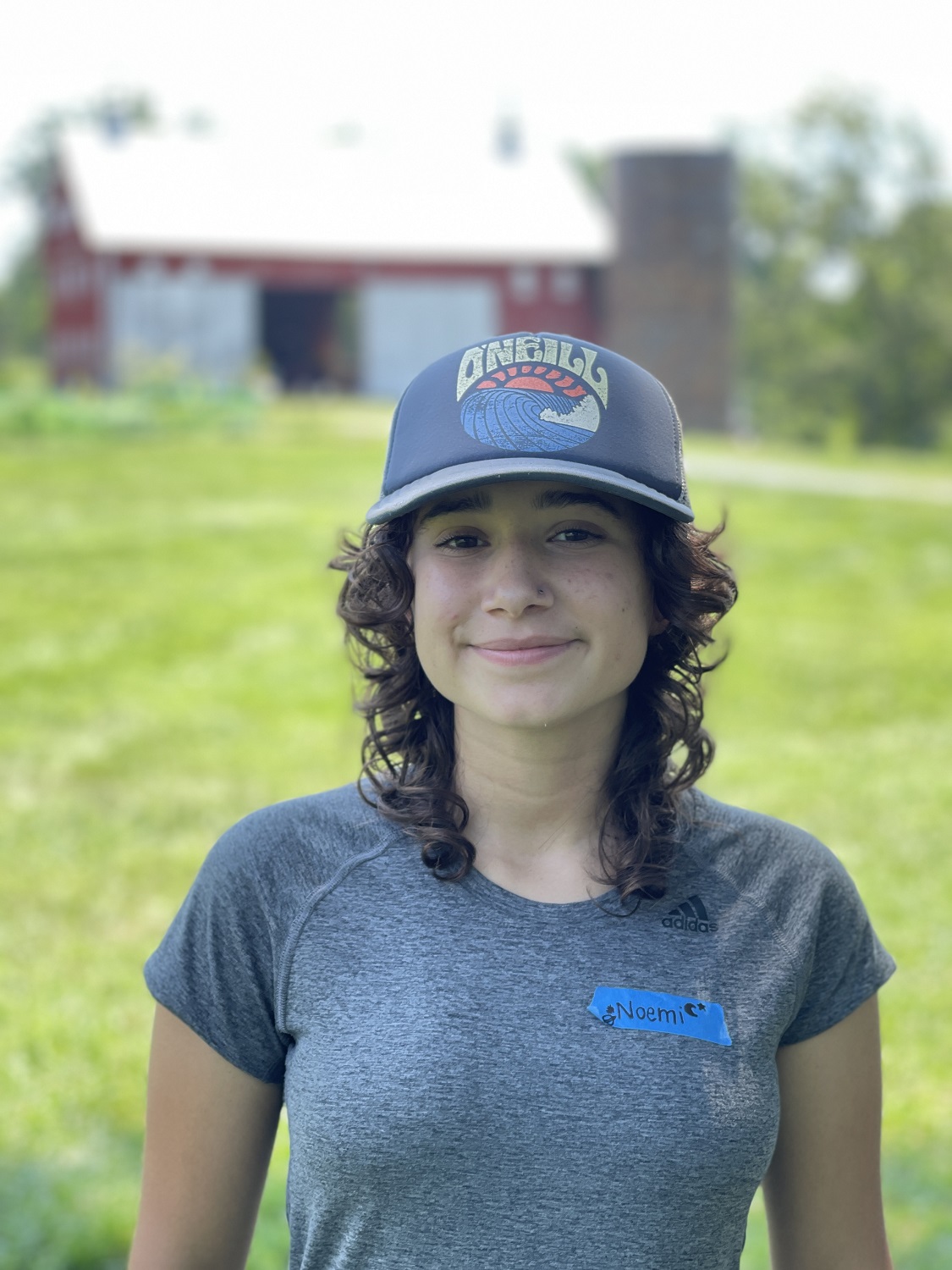 NOEMI
Noemi is a rising senior at Clarksburg High School and an active environmental leader in her community. Her family-oriented upbringing in the biodiverse country of Costa Rica has shaped her into an individual with a deep appreciation and respect for the environment. Therefore, after hearing about Red Wiggler through her AP Environmental Science teacher, Noemi began volunteering right away in the summer months of 2021. She quickly became captivated with Red Wiggler's inclusive community, as it provided an empowering and welcoming space for her to learn and grow with others. As an intern, she has enjoyed learning about the intersectionality of sustainable agriculture, environmental stewardship, and community engagement. Outside of the farm, Noemi can be seen mountain biking through the woods, adventuring with her family, and organizing with student leaders through One Montgomery Green's SAPPlings environmental forum project. She looks forward to cultivating a deeper and personal relationship with food and nature, as well as experiencing the power of sustainable living alongside community action at Red Wiggler.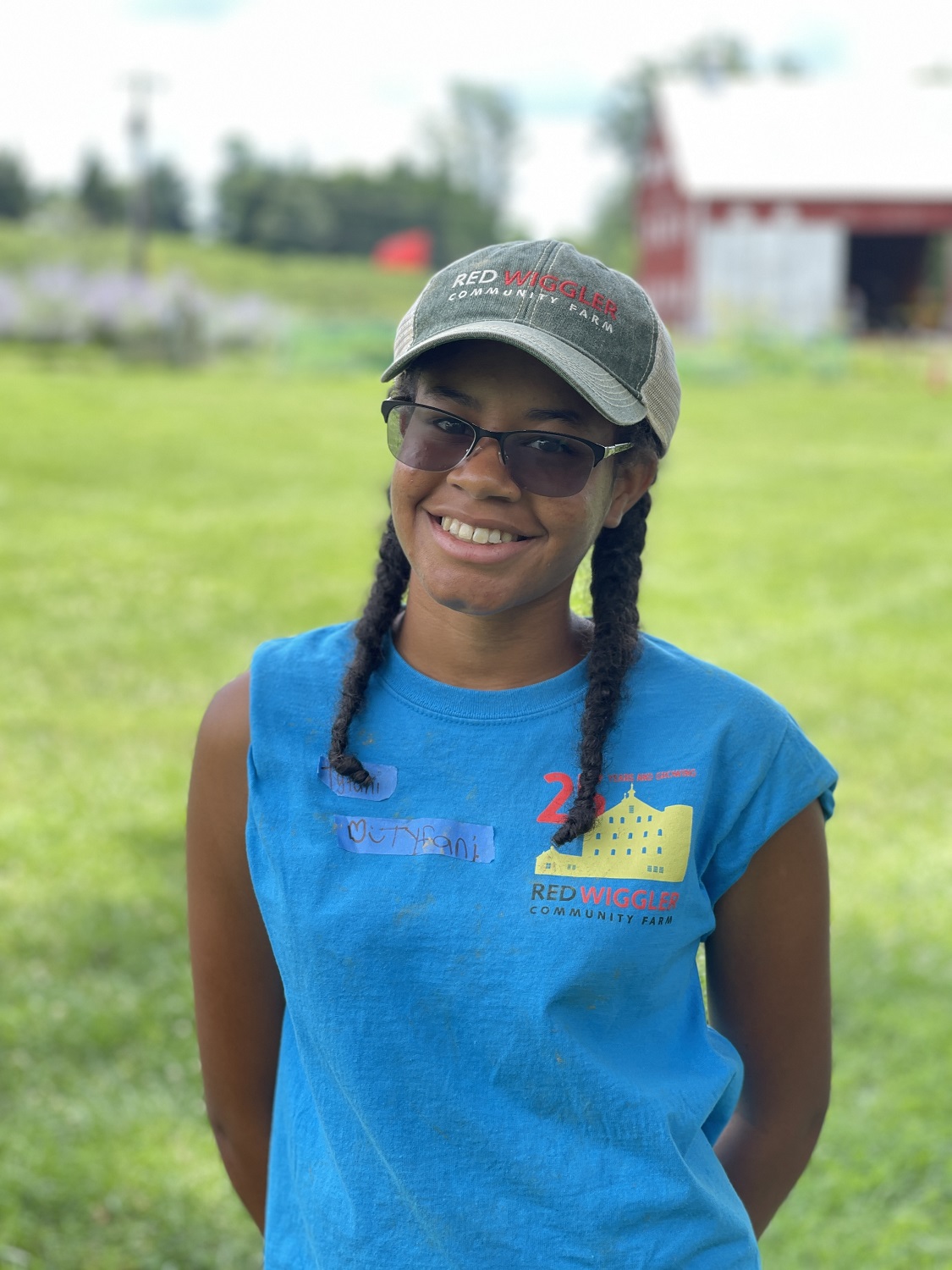 TYFANI
Tyfani grew up in the Montgomery County country area and is currently a rising sophomore at Montgomery College, majoring in General Studies in STEM. She has a passion to learn as much as she can while interning at Red Wiggler, so she can transfer her skills into her own farm. Outside of the farm Tyfani enjoys volunteering at her church and spending time with her family. The biggest lesson she has learned at Red Wiggler is how to build a community of true love and immense diversity. She has greatly enjoyed her internship thus far and cannot wait to gain more skills as her time continues with Red Wiggler.
A big THANK YOU to all our Crew Leaders and Interns for their hard work and help!