It's #MeetTheFarmerMonday – Meet Red Wiggler Community Farm's 2021 interns! Our interns are an important part of our team and work alongside staff and Growers in everyday farm tasks, such as planting, harvesting, composting, weeding, and pest management. Our four interns (Anne, Ciara, Gaby, and Maddy) are critical in helping us with our operations and sharing our harvests with our CSA members group homes, food banks, Neighbors in Need, and other partners.
In this picture are (left to right): Maddy, Ciara, Anne, and Gaby.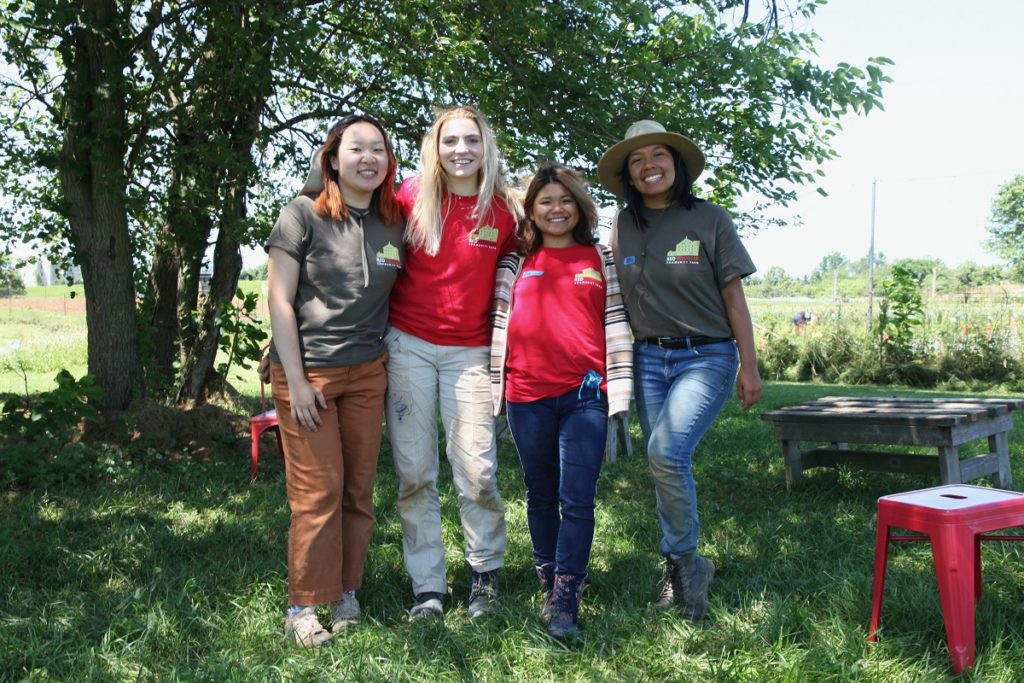 Here is Anne.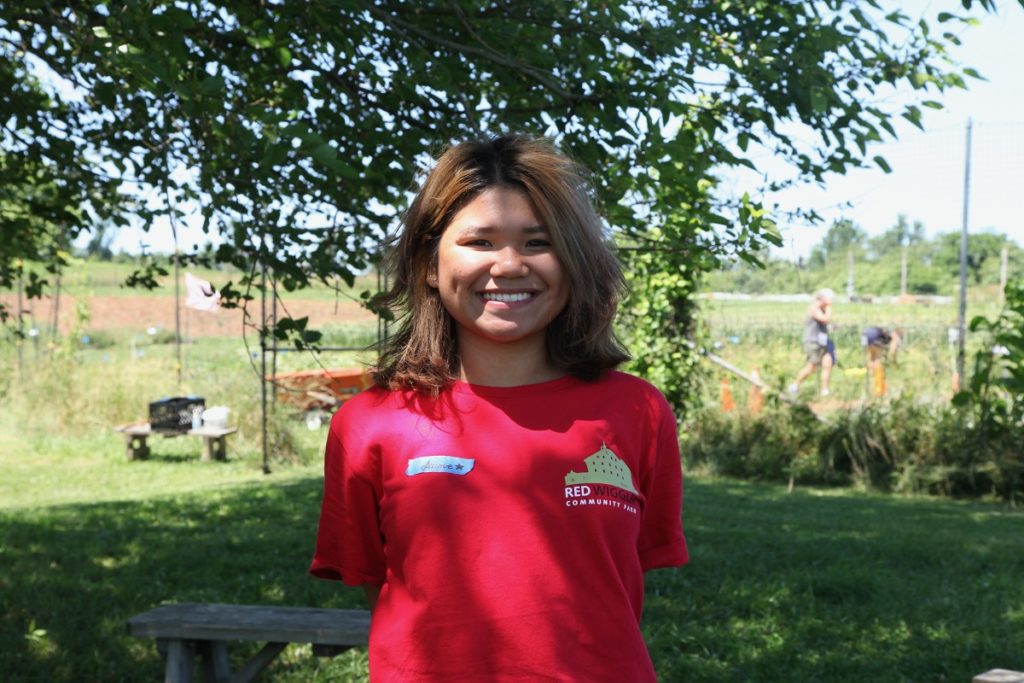 Anne is an upcoming Junior at Montgomery College in Rockville, Maryland. She is majoring in Environmental Science and plans to save the world little by little. Joyful, caring, cheery, and fun are just a few words that her friends use to describe her. Anne heard about the internship through her professor, Kiersten Newtoff (currently a 2021 Crew Leader for Red Wiggler!), during her Biology 151 class. Anne is an outdoors person who loves to give her coworkers treats, loves every living organism, and is motivated to share what she learned from Red Wiggler with other people so that she can make the world a better place to be in.
Here is Ciara.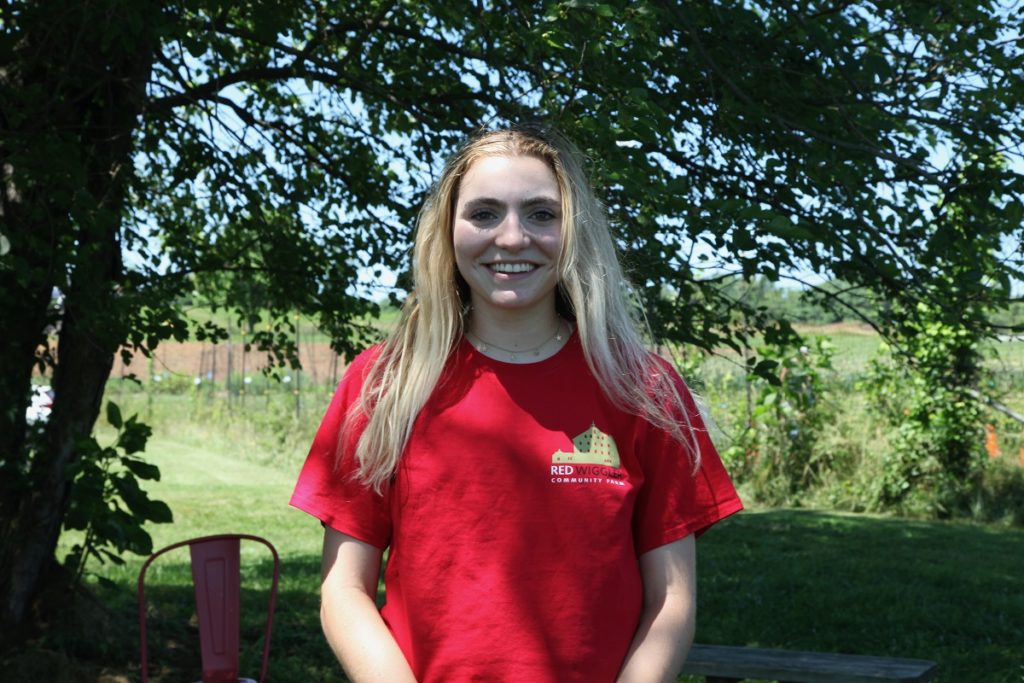 Ciara is a DC native who has fond memories of helping out at Red Wiggler as a middle schooler.  Ciara had a chance to observe community farming when she participated in field research among communities of ethnic minorities on the Tibetan plateau in rural China. Additionally, she learned about the challenges facing farmers and ranchers in rural Montana when she worked on a Senatorial campaign. She is grateful to continue exploring community engagement and sustainable agriculture at Red Wiggler this summer. When she is not out in the fields at Red Wiggler, Ciara can be found on a long run, listening to podcasts on economics and climate change, and hanging out with her sisters. She is looking forward to starting college in the fall after an eventful pandemic gap year.
Here is Gaby.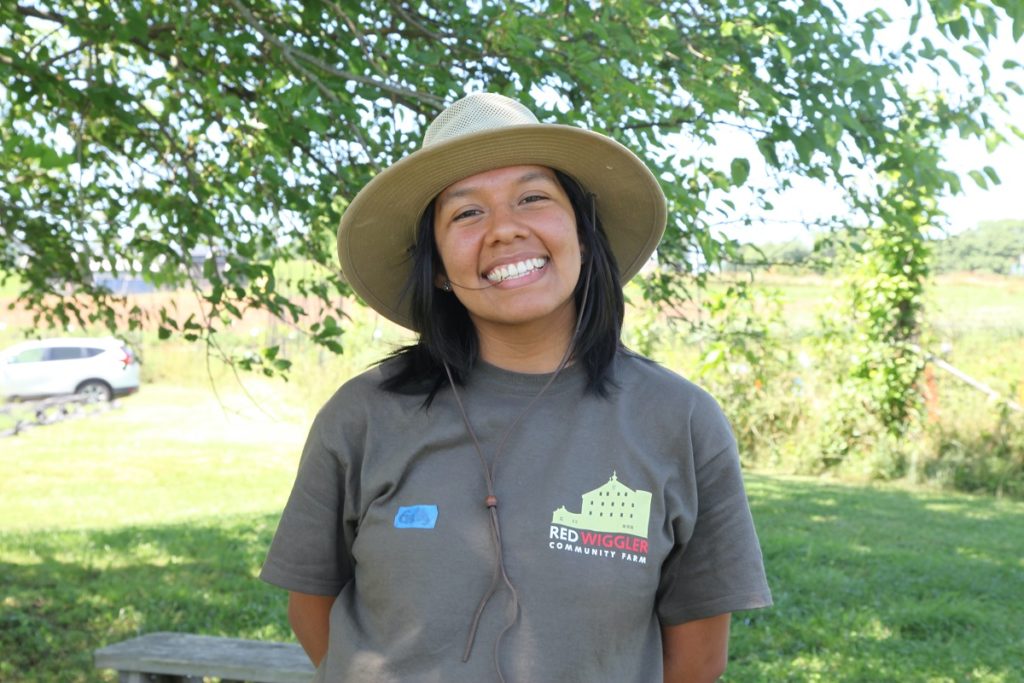 Gaby is a rising sophomore at Montgomery College, majoring in Biology. She landed at Red Wiggler after learning about ocean acidification, renewable energy, and fracking during senior year of high school. Originally thinking she always knew everything, she was caught off guard when she realized how many mistakes she could make. Gaby has learned that it is not always about how quick you can dive through life, but rather how much one can learn from the process. Currently, her favorite task is monitoring irrigation. She loves that Red Wiggler gives her a chance to focus on the present and be productive. On the side, dance has been a major part of her life since she was thirteen years old. Her plans to become a professional dancer are a work in progress as she trains in Virginia, where her passion fuels her. She loves performing and teaching, all the while envisioning herself traveling while doing so.
Here is Maddy.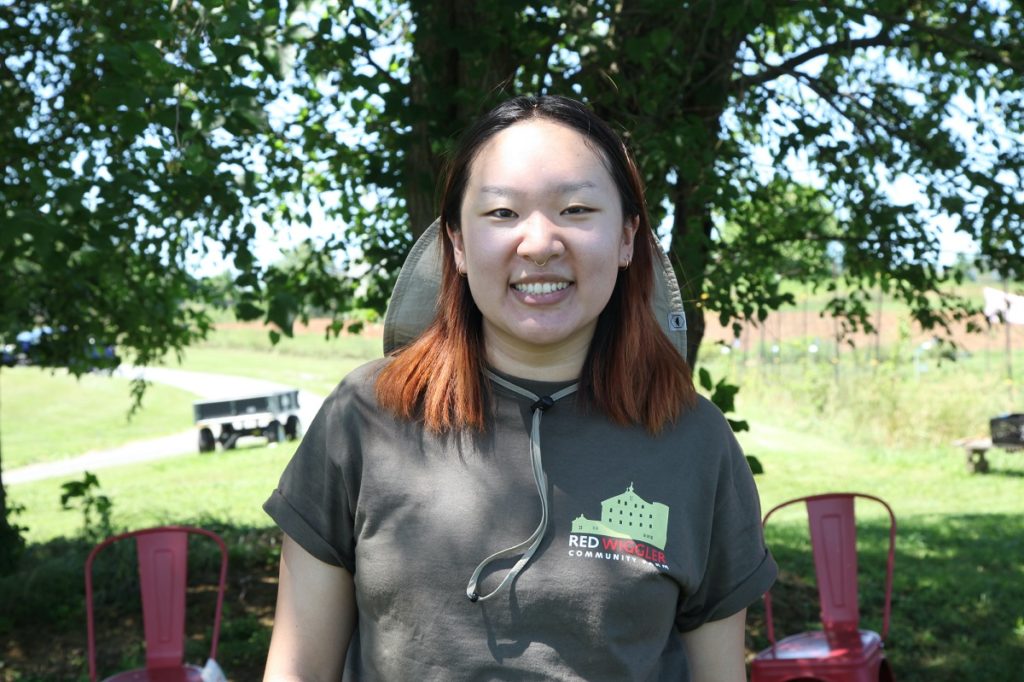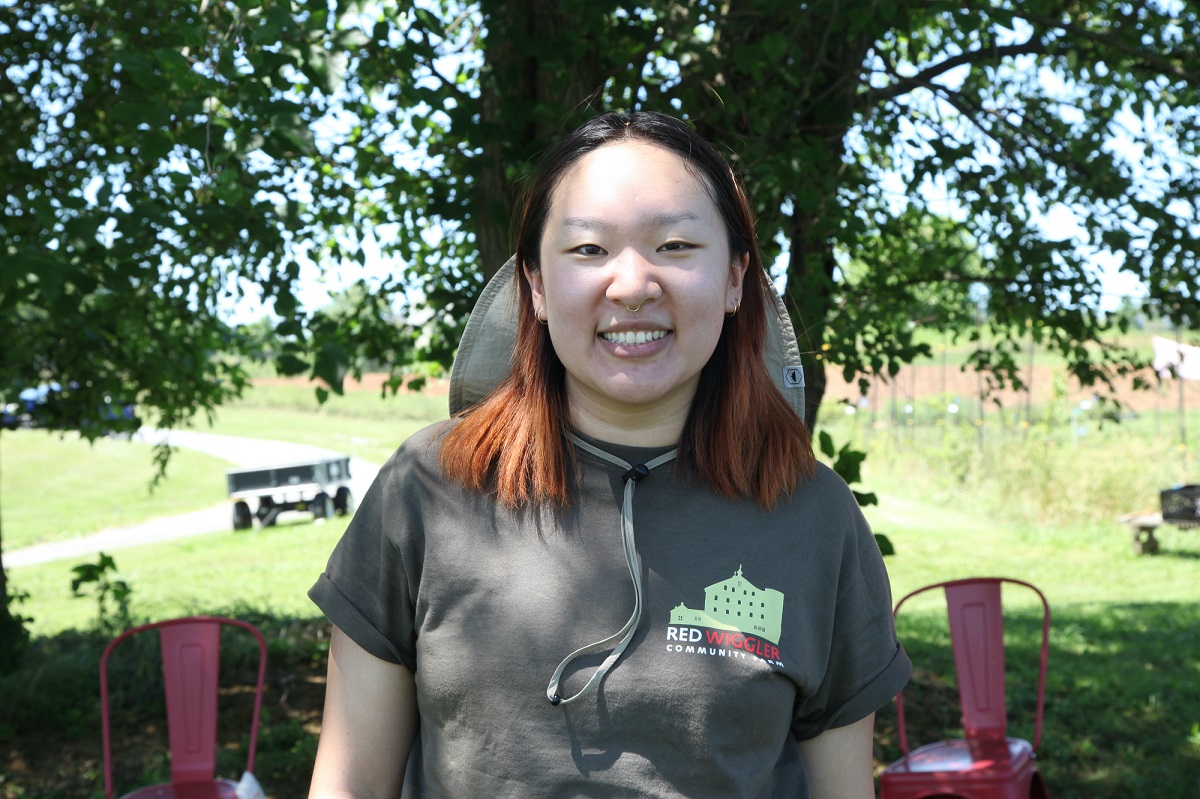 Maddy is a 2016 graduate of St. Joseph's University. Though she had minimal prior farming experience growing up watching her grandparents tend to their vegetable farm in the backyard, she has always had an interest in nature and environmentalism. Maddy has enjoyed all the skills and knowledge she has picked up about sustainable farming, new vegetables, and working alongside others in a community setting while at Red Wiggler. The internship has also allowed her the opportunity to face her fear of bugs head on! She hopes to expand her horizons through higher education on sustainability and urban planning in the near future.
Here is a picture of staff and interns on a field trip to Open Book Farm in Middletown, MD.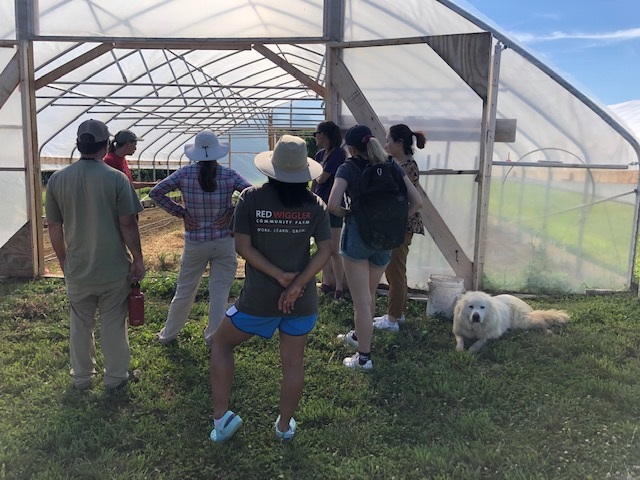 Here, the interns are pounding stakes into the ground in our fields.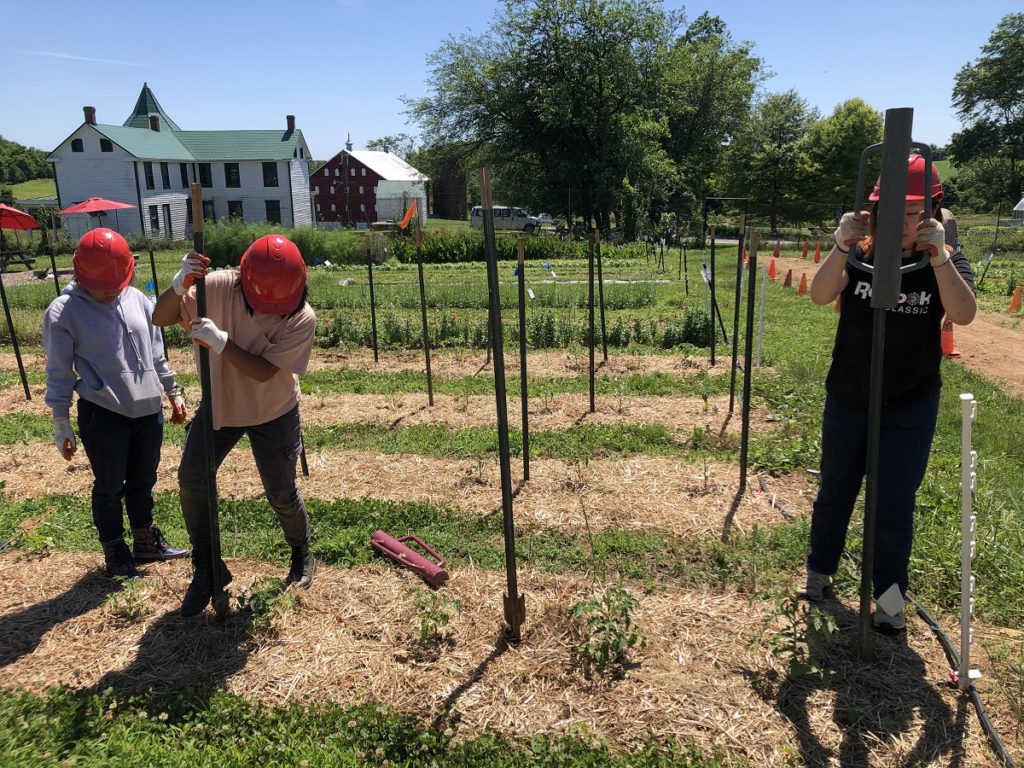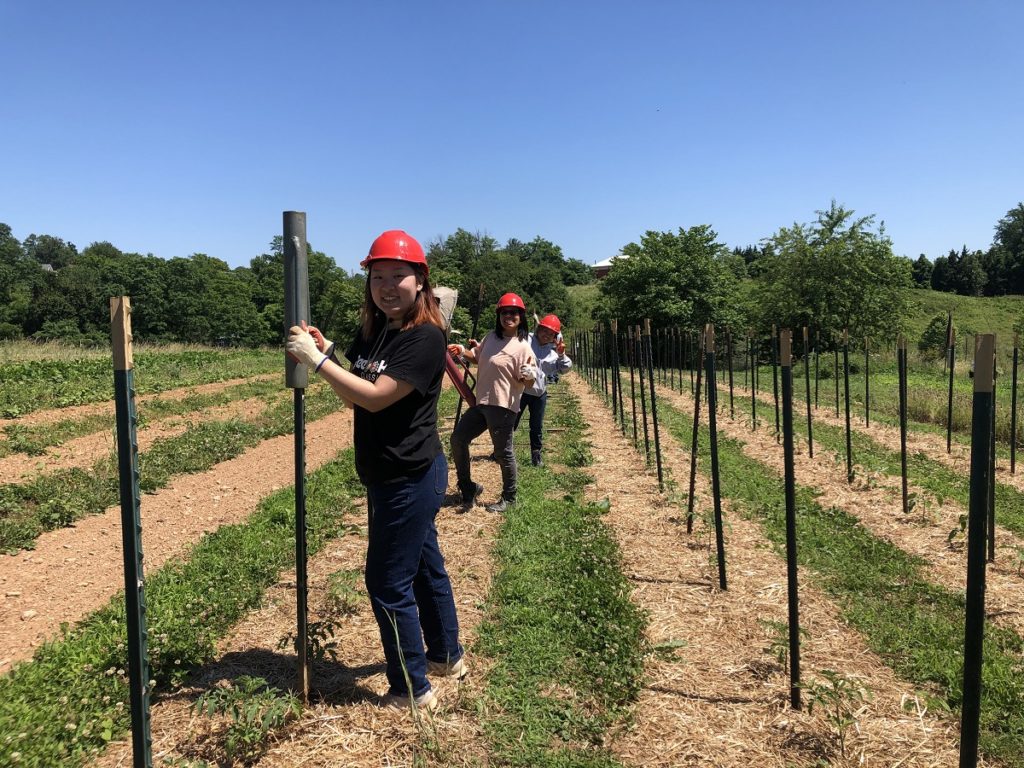 And here is a photo of the interns having some fun while playing a game of Uno with Sam, one of our Growers, during a lunch break.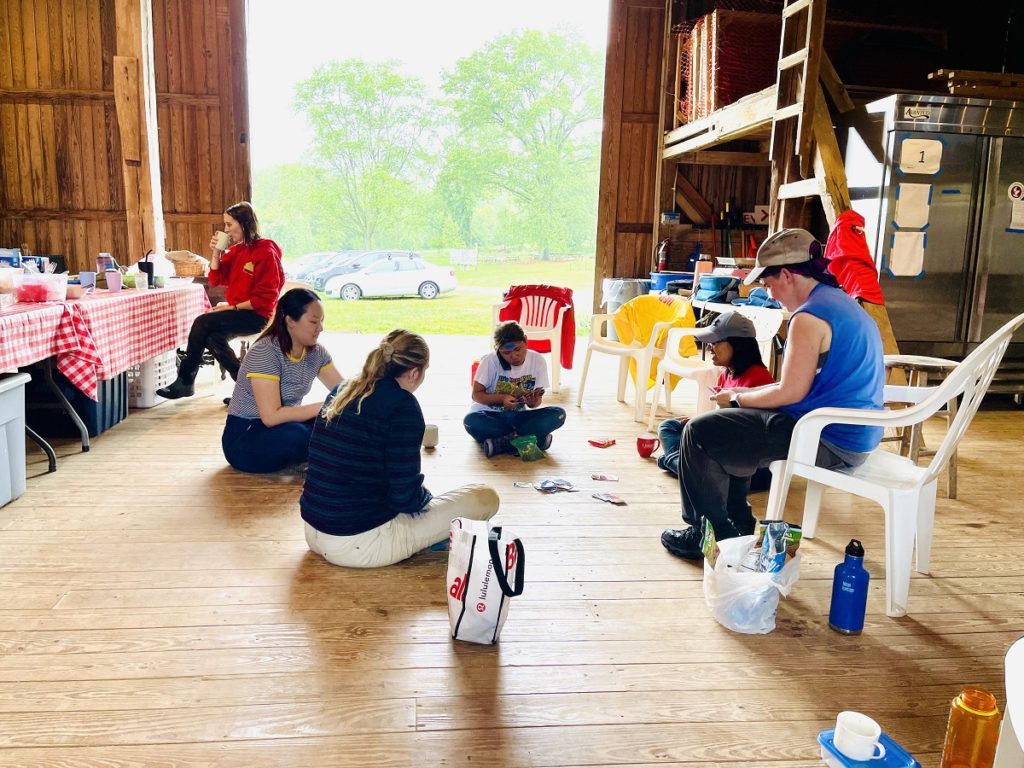 Thanks again to our amazing 2021 interns for all their hard work!!!