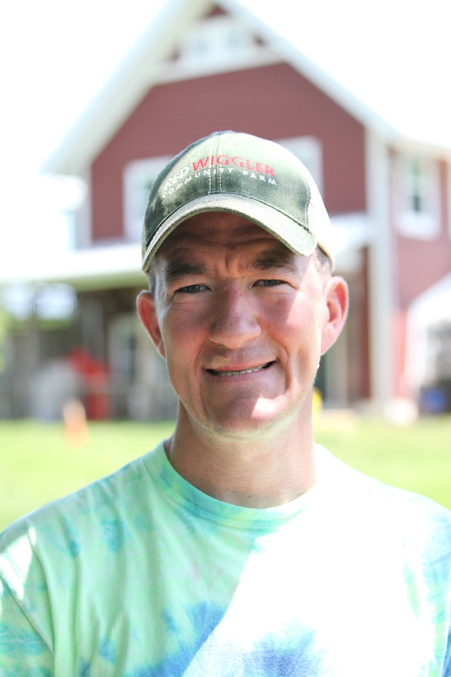 Chris Applegate is one of the new growers at Red Wiggler this season, but he is not new to the farm. In fact, Chris volunteered once a week for the entire 2017 season. It was after learning about the farm from his parents that he decided to volunteer. He hoped it would be a good opportunity to meet and get to know new people. Now he says working with new people is one of the things he enjoys most at the farm, he says he likes to "get to know people, know what they are about".  
"Chris is always ready with a smile, a handshake, and a welcoming manner. He is willing to take on whatever is assigned to him," says Katie Junghans, Volunteer and Grower Coordinator. Since his time at Red Wiggler he has learned about weed identification, mulching, and harvesting tomatoes. He enjoys eating collard greens which is great since we harvest a lot of collards at Red Wiggler!  A self-described nice and hard-working guy Chris fills in his free time watching movies, playing soccer, and getting some much needed rest and relaxation.

For his first season as a paid employee, Chris will be exposed to many different skills on the farm (more than 50 are tracked). After he gets to know everything we do from seeding tomatoes to bunching radishes or washing mustards, our staff will sit down with Chris and his job coach to set appropriate goals for him based on his interests and where he shows aptitude.  Our staff will continue to check in with him over the course of the season and watch his growth carefully. Goals are set annually and are generally some combination of skill progression and and new skills. "All of us at Red Wiggler look forward to working with Chris to find the farm tasks he enjoys most and the areas where he will excel", says Melissa McLearen, Co-Farm Manager.