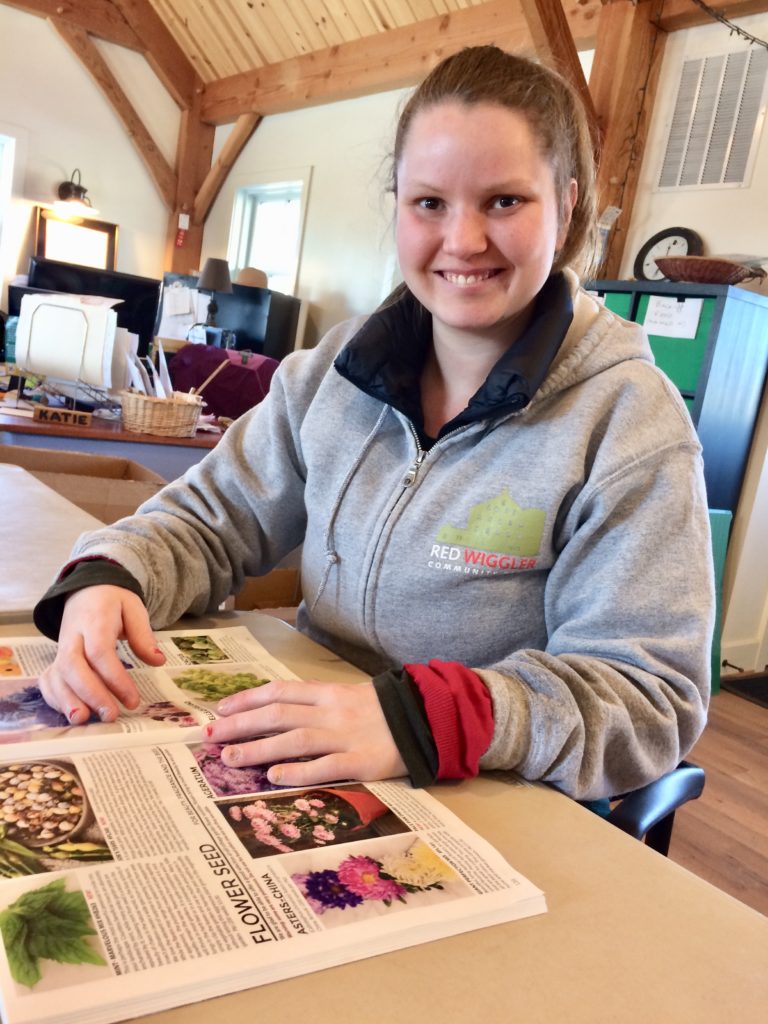 For Iya Snowber, Red Wiggler marked her first time working on a farm, though she had helped with gardening at home before. Now, 13 years later, she works at the farm three days a week.
Over this past winter, Iya has been both a diligent seeder, patiently seeding teeny-tiny lavender seeds, and seed saver, rubbing dried seeds off dried dill heads. 
 Iya's favorite job is hand-weeding. This year, her goal was to learn how to use the shuffle hoe, a tool used to scrape off the top layer of weeds without disturbing the soil around small plants.  "I'm proud of weeding," she says. "It's fun." Iya will keep developing this skill and others, like working at the wash station, this coming year. 
Iya is a familiar face to the farm's 120 CSA families. On Saturdays, she welcomes CSA customers, sets up the pickup area in the barn, helps customers find herbs and flowers in the pick-your-own (PYO) area, and breaks everything down at the end.
"Iya really enjoys helping the customers pick up their food, and is always quick to offer ideas of how to prepare different vegetables," says Red Wiggler Education and Outreach Coordinator Molly McCracken, who works with Iya on Saturday pickups.
Among those who don't mind getting their hands dirty are Iya's parents, Chris Snowber and Cynthia Hamilton (who sits on Red Wiggler's Board). Long-time supporters of the farm and lifelong supporters of organic food production and food sustainability, Iya's parents taught her the value of good nutrition from a young age.
When she gets home from the farm, Iya likes to roast or sauté the vegetables she has grown. Her favorite are the small sweet peppers and bell peppers.
"It's fun but tiring," Iya says of her work.