On most Thursdays this winter, thru mid-March, Growers and a few volunteers join us for our "Community Days". Together, we engage in fun and educational activities. One of the most important activities is cooking! As farmers, we find the best way to improve our eating is to cook food together that we know is good for our bodies. We make simple, delicious, healthy recipes, using as many farm ingredients as possible, talking about how these dishes support our bodies as we go. Each week we will post the recipes we use below so that you can follow along! 
Cooking1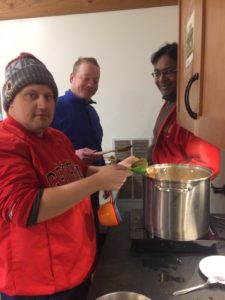 We had a great harvest of sweet potatoes this year and still have a handful left in our root cellar. Our crew tends to eat a lot of sweet potatoes so we are always looking for interesting recipes to spice them up a little. A CSA member recommended this Sweet Potato and Peanut Stew with Kale from Food52's vegan cookbook. It was perfect for our group- gluten free, uses plenty of sweet potatoes and who doesn't love peanut butter! Pictured: Craig and Benny observe while Brandon scrapes every last bit of the PB into our stew.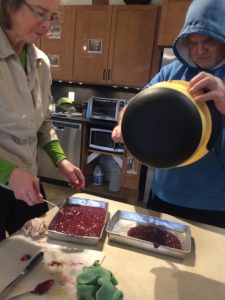 Wanting to get our Community Days off to a fun start, it seemed like a celebratory dessert was in order. We tried out this Chocolate Beet Brownie recipe from Early Morning Farm. Early Morning Farm always has great seasonal recipes that are relatively simple and this was no different. Big hit all around! Pictured: Katie and Jerry scrape the beautiful maroon batter into the baking pans.