Here's a favorite 2-part recipe from Andrea, RWCF Farm Manager, from the D.I.Y. Delicious cookbook.
Potato Salad with Spicy Pickled Green Beans and Hard-Cooked Eggs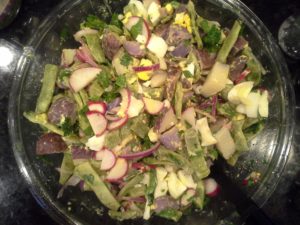 4 large hard-boiled eggs
1 ½ pound potatoes
1 small red onion, thinly sliced
1 bunch radishes, halved and thinly sliced
1 celery rub, cut in half lengthwise and thinly sliced on the diagonal
1 ½ cup Spicy Pickled Green Beans, cut into 1-inch length, juices reserved (recipe below)
¼ cup chopped fresh flat-leaf parsley
1 tbsp snipped fresh chives
1 tbsp chopped fresh dill
¼ cup olive oil
Salt
Wash the potatoes, leaving them unpeeled. In a vegetable steamer over medium-high heat, steam them until tender, about 15 minutes. Remove them from the steamer and let them cool slightly.
Cut the potatoes into bite-sized pieces and put them in a large salad bowl. Add the onion, radishes, celery, green beans, and herbs. Peel the eggs and cut them into ½ inch pieces. Add them to the bowl. Toss and add the oil, season with salt and pepper, and add pickle juice to taste. Serve immediately, or within 2 hours at room temperature. This salad tastes best if it's consumed the day it is made and never refrigerated. If you must make it ahead, it will keep, refrigerated, for up to 5 days. Remove from the refrigerator 30 minutes before serving and taste and adjust the salt and pepper.
Spicy Pickled Green Beans
1 lb green beans, stems snapped off and left whole
2 fresh mild red chiles (such as fresno) quartered lengthwise and seeded
2 garlic gloves, thinly sliced
3 or 4 sprigs fresh dill
1 1/3 cups distilled white vinegar
1 tbsp sugar
2 teaspoons kosher salt
1 teaspoon yellow mustard seeds
Sterilize a 1 quart mason jar and its lid with boiling water or in the dishwasher. Let air dry.
Pack the green beans, chiles, garlic, and dill into the jar in alternating layers distributing them evenly.
In a small saucepan over medium heat, bring 2/3 cup water, the vinegar, sugar, salt, and mustard seeds to a boil. Stir to dissolve the sugar, and let the mixture boil for 5 minutes. Pour the hot liquid over the green beans, fasten the lid, and refrigerate. Let it sit for 3 days to blend the flavors. The beans will remain crisp with flavors of the spices evident. The pickled green beans will keep, refrigerated, for several weeks.
Chilled Raw Beet Salad
From Katie, our Volunteer & Grower Coordinator. So delicious and easy. Especially easy if you have a food processor! 
Grated beets, about 2 cups (1 bunch)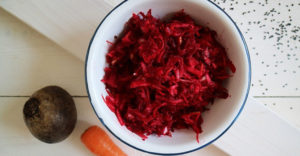 Grated carrots, about 2 cups (4ish carrots)
Grated apple, about 2 cups (3-4 apples)1 onion, minced
Salt and pepper, to taste
2 tsp Dijon mustard
1 Tbsp olive oil
2 Tbsp vinegar (red wine, balsamic, etc)
1 Tbsp parsley or dill, minced
Wash and peel beets before grating.  Peeling carrots and apples is optional.  Toss grated veggies, apples, and onion in large bowl.  Whisk salt, pepper, mustard, oil and vinegar, and herbs.  Drizzle over beet mixture and toss gently.
Serves 4-6.  Can be served room temperature or chilled.