Laura Roser was a Volunteer Intern at Red Wiggler during the summer of 2016. She is currently studying Sustainable Agriculture and Food Systems at University of California Davis. We are incredibly appreciative of Laura and the other Volunteer Interns for their contributions to Red Wiggler. Below is a portion of a self-reflection on her time here- we thought it captured the spirit of the farm so well that it was worth sharing with our friends and supporters.

"Because of Red Wiggler, I discovered that I really enjoy working with people with developmental disabilities. The growers at Red Wiggler are a part of society whose immense value I feel is often ignored. I had a little experience with people with developmental disabilities before coming to Red Wiggler, but once I arrived I found friends in people with so many different personalities and ways of behaving.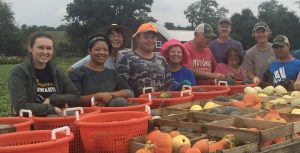 Although the abilities and personalities of individuals with developmental disabilities are all different, I think most people overlook their value in the workplace. Not only do many of them find joy and humor when it is most needed and in everyday things, there have been countless times that I've been reminded to do something or kept in check by the growers at Red Wiggler. When my mind is elsewhere, I am reminded verbally and through action about the little things. For example, one of the growers, Jerry, will automatically start cleaning or stacking bins when I had started leaving them in their place or point out a vegetable I had missed while harvesting. Another grower, Craig, will constantly remind everyone "don't forget your water", which is incredibly important on hot days when it's easy to become dehydrated. The growers at Red Wiggler constantly provided me with new perspectives and many of them show they care more openly or in different ways than most people, often in the moments when you most need it. Because of these reasons, I want people with developmental disabilities to continue to be a part of my life and can see myself working with them in the future.

Red Wiggler also helped me develop as a person. I learned to celebrate small scale victories. One day, one of the growers, Nuno, used a pitchfork all by himself to lift carrots out of the ground for the first time, which I discovered when he told me multiple times throughout the rest of the day. For many, using a pitchfork is no big deal, but for Nuno it represents taking on more responsibility after years of not being ready. I also finally learned to tell the exact color and feel of the purple heirloom tomato variety grown this year at the farm, after a week or two of asking "Is this ripe yet?" when sorting tomatoes.
Additionally, I have learned to trust myself more and that it's okay to make mistakes. Before coming to Red Wiggler, I didn't have much experience leading independently and being directly responsible for a task being completed properly. But through my experience this summer, I have learned to be more confident and to not be afraid to take the opportunity to lead. I was often given the task of leading seeding, transplanting, harvesting and sorting, the kind of work where I could easily receive feedback on how well I did. If germination wasn't good, I probably didn't water enough. If I found tomatoes rotted or leaking on the vine, I didn't look hard enough while harvesting earlier in the week. And often, I learned that I actually knew how to do a task, but I asked questions for reassurance when I could've trusted my own judgment. And when I did make a mistake, it was okay because farming has a lot of variability and unpredictability anyways.

To me, Red Wiggler Community Farm represents a model for agriculture and has established its self as a central point in the local food system. There are a lot of lessons to be learned from how Red Wiggler and similar farms grow their food and support the community they've developed. Farms should make it their goal to benefit both the community and the environment, although it seems that no action is taken to try to improve sustainability or build stronger communities in most conventional agriculture. I want to help change the way we grow, package, and eat food to benefit the planet instead of harming it. And I think Red Wiggler Community Farm was a joyful and welcoming place to start."