This recipe instructs you to use a crock-pot but if you don't mind the labor and want it done a little faster, cooking it on the stove works great. Just be sure that you cook the sweet potatoes all the way through.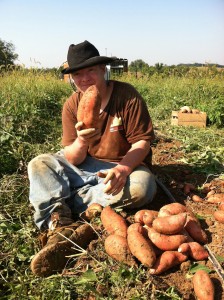 Serves 8 
2T chili powder
2t dried oregano leaves
½ tsp ground cumin
Salt, to taste
6-8 small to medium sweet potatoes, peeled and diced
1-15 oz can black or pinto beans, drained rinsed
4 cloves garlic, minced
1 medium onion, halved and thinly sliced
1 jalapeno pepper, seeded and minced (optional)
1 green pepper, chopped1 T chopped cilantro (optional)
1c frozen corn, thawed and drained
3T lime juice
¾ c. shredded Monterey jack cheese
8 small flour tortillas
To prepare the filling:
Mix spices.
In Crock Pot, layer in order—sweet potato, beans, ½ spice mix, garlic, onion, green pepper, remaining spice mix and corn.  Cover.
Cook on low for 5 hours or until sweet potatoes are tender.
Stir in lime juice and cilantro.
Preheat oven to 350 degrees.
To prepare the burritos:
Spread 2T of cheese in center of each tortilla. Spread 1cup filling. Fold in thirds. Place seam side down in baking pan. Sprinkle more shredded cheese on top, if desired.  Bake 15-20 minutes at 350 degrees or until cheese on top is melted.
Top with sour cream or yogurt if desired.
YUM!