By Andrea Barnhart, Farm Manager
One of the most frequently asked question of a farmer, is "What do you do in the winter?"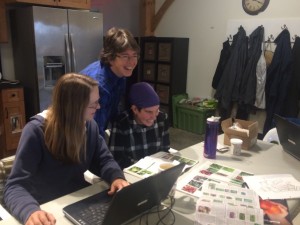 Although it's obvious in the summer, it's not so obvious in the winter what farmers do. Winter time for farmers is a great time to reflect on the past season, plan for the next season, and remember why you love farming so much by scouring seed catalogs and picking out new varieties that you want to try.
For us at Red Wiggler, "The Seed Order" is a favorite tradition of the winter. Our tradition is to all come together at someone's house, start up the fireplace, grab our favorite seed catalog (Thanks Johnny's Seeds!) and plan out the year. We each have different jobs: managing & reviewing last year's seeds' inventory, creating the seed order spreadsheet, creating the field plan spreadsheet, and documenting the organic seeds ordered.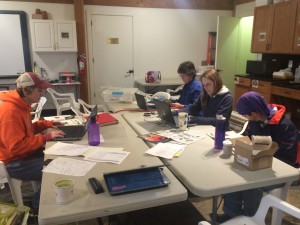 During the process, we will take a category like tomatoes, and talk thru all of our favorite, "tried and true" varieties, as well as the new ones we want to try.
You may be surprised to hear that "The Seed Order" is a 3-4 day process and wonder how it could possibly take so long. But it is quite a process of reviewing varieties, comparing prices, and figuring out how many seeds you need to plant for "x" amount of feet. We also see it as a great learning and educational process for both staff and growers as we exchange information on what grows best at Red Wiggler, why we grow certain varieties, and pick out new varieties we want to try.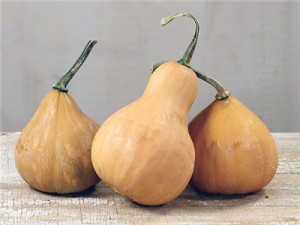 The most interesting variety we are going to try this year is the Seminole Pumpkin and it comes with quite a story! First, just a little background about "growing" at Red Wiggler. We have a TON of groundhogs that co-habitat our fields and one of their favorite meals is butternuts and winter squash. Second, we have major squash diseases like powdery mildew and downy mildew. So, when looking at squash and pumpkin varieties, we are always looking for disease resistant varieties! Up popped Seminole Pumpkin – a wild squash of the Everglades that is resistant to insects and diseases. Wow, that seems nice and it makes sense it would be resistant to disease in the wet conditions of the Everglades! Then we read further, "The Seminole Pumpkin is a pear-shaped or spherical pumpkin with an incredibly hard shell or rind. The rind is so hard that it must be broken with an ax." Hmmm… at this point, I start to laugh, imagining a ground hog trying to chomp on a growing Seminole Pumpkin. Then we decide to look at farmer comments who have grown this pumpkin before…. One farmer
commented
:   "I did not fertilize, did not weed, and watered every other day. The Seminole Pumpkin was a MACHINE. Its vines sprawled across the ground, putting out new pumpkins frequently–long after the Candy Roasters had set one fruit per vine and succumbed to powdery mildew, the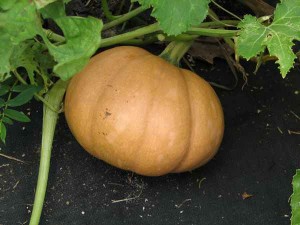 Seminole Pumpkins continued to spread and set new fruit. Eventually they passed through the fence and were discovered by the chickens, so I had to pick them while most were still green. Overall the chickens and I got about 8-10 pumpkins per vine. As of today, the pumpkins have all ripened and are storing nicely in my warm kitchen."
By the end of reading this, I was laughing so hard I was crying… (perhaps a sign of staring at seed catalogs too long?)
We are looking forward to trying the Seminole Pumpkin!
To check out more about the Seminole Pumpkin:
https://www.slowfoodusa.org/ark-item/seminole-pumpkin
http://www.rareseeds.com/seminole-pumpkin/