Tis' the season for delicious orange vegetables packed with beta carotene, vitamin A & nutrients that keep us healthy during the change of seasons.
We tried out these two recipes with the growers  as well as at the Family Cooking Workshop. Pretty tasty!
Sweet Potato Smoothie
adapted from a recipe by Alton Brown
Makes 2 large or a bunch of small smoothies
Ingredients:
2 cups sweet potatoes, peeled, boiled, mashed & chilled
1 banana
1 1/2 cups cold milk, almond milk, rice milk or soy milk
1 tsp vanilla extract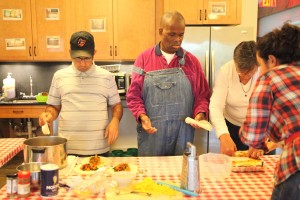 1 tsp cinnamon
1 tbsp. honey
Optional: 1 cup Greek yogurt
Directions:
Pour all ingredients into a blender. Puree until smooth, adding more milk (1-2 tablespoons at a time) as needed. Pour and serve!
Butternut Squash, Kale & Black Bean Enchiladas
Makes 8 enchiladas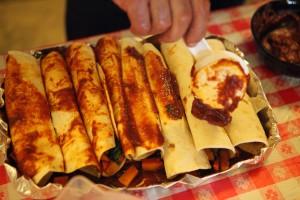 Ingredients:
1 cup enchilada sauce (We used a recipe by Emeril Lagasse, but store bought is fine!)
1 tbsp olive oil
2 cups (about 1 lb) peeled butternut squash, diced into ½ inch pieces & roasted until soft
½ cup sweet peppers diced
Salt and pepper, to taste
1 small onion, diced
3 cloves of garlic, minced
2 cups diced tomatoes
2 cups kale, destemmed and cut into 1 inch pieces (curly is best)
1 ½ cups cooked black beans
¼ cup cilantro
1/2 tsp cumin
½ tsp chili powder
¼ cup water
8 medium tortillas
1 cup shredded cheddar cheese
Optional: 1 jalapeno, seeded & sour cream for serving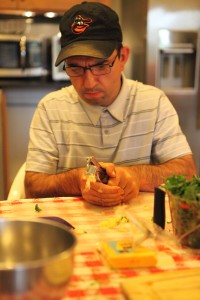 Directions:
Preheat the oven to 400 degrees. Place ¼ cup enchilada sauce on the bottom of a large baking dish. In a large pan over medium heat, add olive oil, onions & garlic. Stir and cook for 2-3 minutes until onions are translucent. Add butternut squash & the water and cook until soft, 10 minutes or so. Add tomatoes, black beans, kale, cumin and chili powder. Season to taste with salt and pepper. Cook for 3-5 minutes, stirring periodically. Place a generous 1/3 cup of filling in the center of each tortilla. Roll and, place seam side down, in a pan. Add remaining enchilada sauce and cheese and bake with foil over it for 10 minutes. Serve with sour cream or whatever garnishes you like!