I must say, I love winter. I love snow, cold weather, bundling up in a warm coat or on the couch with a blanket. But even I think this is getting a little ridiculous. I still get excited when I hear it's going to snow, but the ice and freezing rain is what's starting to really get to me. Still, I'm trying to keep my spirits up.
One thing that I love about winter is cooking. For me, there's nothing better than spending a chilly evening chopping, mixing and putting together a warm winter meal with all of those delicious winter veggies. If I really want to indulge myself, I might even turn on a British Mystery in the background.
So for all of you who are tired of winter; tired of being cooped up, tired of the freezing cold, frozen pipes and kids at home day after day, I invite you to try out one of my favorite dishes this winter.  It might help, just a teeny-tiny bit.  At the very least, you will get to stand next to a warm oven.
This recipe was introduced to me by RWCF Volunteer Coordinator, Katie Junghans. Each Wednesday, Katie prepares a crock-pot meal with our growers using veggies we've grown on the farm. On Fridays we all get to share the meal together. This was one of the best.
I love this recipe because:
1) It contains sweet potatoes- those delicious, super healthy, winter treats.
2) It's a great make-ahead dish for lunch, dinner, or even breakfast .
3) It's family friendly- In my experience, a kid will eat virtually anything if it's inside a tortilla and topped with cheese. They might even help you roll it up!
4) There aren't any unusual, hard to find or expensive ingredients. You probably have a lot of these ingredients in your kitchen already.
5) And most importantly, it's DELICIOUS.
Here it is:
Sweet Potato and Bean Burritos
This recipe instructs you to use a crock-pot but if you don't mind the labor and want it done a little faster, cooking it on the stove works great. Just be sure that you cook the sweet potatoes all the way through.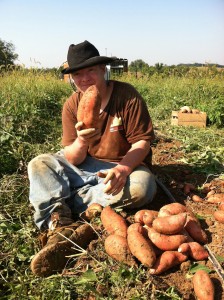 Serves 8 
2T chili powder
2t dried oregano leaves
½ tsp ground cumin
Salt, to taste
6-8 small to medium sweet potatoes, peeled and diced
1-15 oz can black or pinto beans, drained rinsed
4 cloves garlic, minced
1 medium onion, halved and thinly sliced
1 jalapeno pepper, seeded and minced (optional)
1 green pepper, chopped1 T chopped cilantro (optional)
1c frozen corn, thawed and drained
3T lime juice
¾ c. shredded Monterey jack cheese
8 small flour tortillas
To prepare the filling:
Mix spices.
In Crock Pot, layer in order—sweet potato, beans, ½ spice mix, garlic, onion, green pepper, remaining spice mix and corn.  Cover.
Cook on low for 5 hours or until sweet potatoes are tender.
Stir in lime juice and cilantro.
Preheat oven to 350 degrees.
To prepare the burritos:
Spread 2T of cheese in center of each tortilla. Spread 1cup filling. Fold in thirds. Place seam side down in baking pan. Sprinkle more shredded cheese on top, if desired.  Bake 15-20 minutes at 350 degrees or until cheese on top is melted.
Top with sour cream or yogurt if desired.
Here's to winter and the eventual warm days ahead! 
Molly McCracken
Education & Outreach Coordinator