Season's Greeting!
A year of hard work, temperate weather and bountiful harvests – 2014 marks another successful season here at Red Wiggler. Our success was made possible by YOUR generous support! Please consider a donation to Red Wiggler Community Farm this holiday season.  We are excited and eager to begin our 20th year and invite you to join us in celebrating!
A special thank you goes to those who helped make our Giving Tuesday Challenge a success! Because of you we exceeded our goal and raised $3,235 and thanks to a generous individual the first $1,000 was matched bringing the total to over 4K in one day!
We know that not all of our friends and supporters have made it out to the farm this year, so we thought we'd share a story from our fields.
Thirty-four years of farming between them, Jerry and Tyler head out into the fields, pitchforks in hand.  They know the routine:  First, carefully position the fork's tines a few inches from the row of feathery green foliage.  Then, step onto the fork and push it straight down, burying the tines.  Finally, pull back on the handle to loosen the soil around the roots.  Now the payoff:  Reach down close to the soil and gently pull the greens.  Bunches of bright orange treasures are exposed, to the great joy and excitement of these two veteran farmhands!
These carrots are the fruits of many months of farm labor:  Shoveling and spreading of sweet-smelling compost in the fall; spring cultivation of the rich soil and the sowing of the tiny seeds; summer mowing between the beds, hoeing around the rows of little plants. Jerry and Tyler's satisfied smiles stay with them as they steadily work down the rows, leaving piles of beautiful carrots in their wake.
Using experienced eyes, Sam quickly sorts out any carrots that are not of the highest ("first") quality.  These will have their greens clipped off and become "seconds". David's sure hands gather the carrots and deftly band them into the 1-pound bunches that will grace the CSA tables.  Stephen carries orange harvest baskets filled to overflowing down to the wash station where Craig lays out the bunches and sprays them with just enough water pressure to clean them without harming the carrot tops.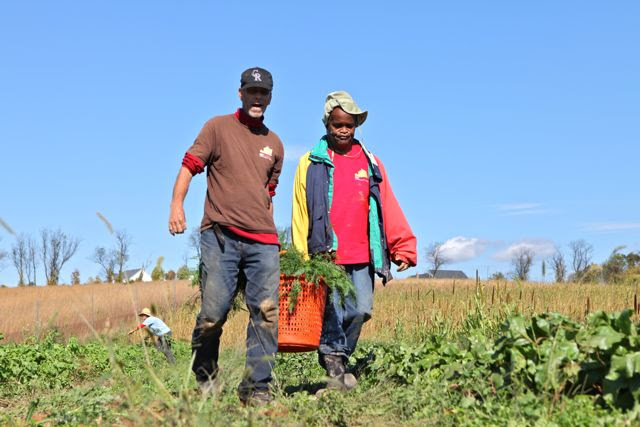 There is tremendous energy, hard-earned expertise, and carefully choreographed teamwork behind every week's colorful array of vegetables. Each day is filled with stories like this one about carrots –  each one of our 1,000 participants and each of the vegetables we grow has a different story to tell.
Your contribution allows Red Wiggler to provide meaningful employment and skill development to adults with developmental disabilities, vegetables to area food banks and group homes to increase access to organic, nutritious vegetables in our community, and experiential education opportunities for area youth. Help us continue creating these stories by contributing this holiday season.
Your financial support will allow us to have a successful 20th year and continue growing!
Winter at the farm
Winter is a time for planning, rest and training. In January and February, Growers and school groups will be growing microgreens (small salad greens) in the greenhouse. This program will allow Red Wiggler to employ our Growers through the winter and offer educational programming for students. Growers will be trained on growing and selling microgreens and will then train the students that come to the farm to do the same. Interested in helping fund this program?  Donate here.
Regards,
Woody Woodroof
Executive Director