We have had a very busy few weeks here at Red Wiggler. Since winter held on for so long this year, we had to act fast once the soil thawed and dried enough for planting. Our greenhouse is bursting at the seams, and we are transplanting and seeding in the fields as fast as we can (and as fast as these freeze watches allow us)!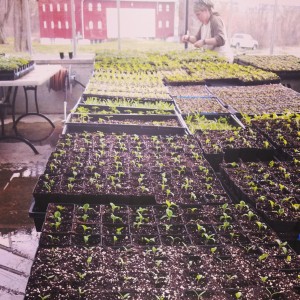 Last week, we celebrated the warm weather by planting many rows of onions, peas, and potatoes. Planting is an excellent group activity here because for each row, we need two people to drop plants at the appropriate spacing into the row; three or four people to follow behind, tucking the plants into the soil; and several people running back and forth with more plant trays, watering cans, etc. Multiply that by many rows and you get one tired Farm Crew. Here we are taking a snack break with some over-wintered kale: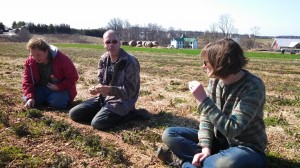 Each task requires care and attention to detail as well as lots of bending, stretching, and building good farming muscles. It gets busy but luckily we have had several groups and star volunteers to help us!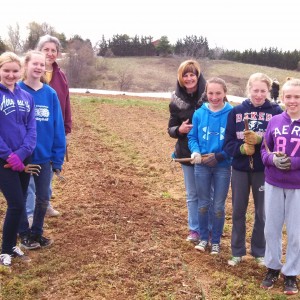 This week was spring break for many area schools, so we had around 10 students participating in our Spring Break Service Learning Camp, plus a few additional youth groups volunteering. They helped us weed rows of onions, plant parsley, transplant seedlings, paint our Pick-Your-Own signs, and much more.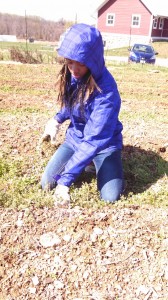 As you can see the volunteer season has officially started, so if you're interested in volunteering with us please check out this page or e-mail laura@redwiggler.org.