Red Wiggler is excited to be participating in this year's Rooting DC Conference, which will take place Saturday, March 1st in Washington, D.C.
Rooting DC is a free, all-day farming and gardening forum that focuses on a wide range of food issues in the Washington, D.C. region.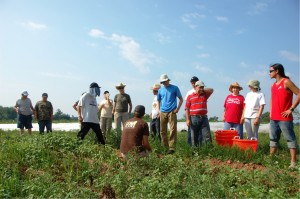 The conference will feature more than 70 practical and informational workshops, cooking and food preservation demonstrations, and panel discussions focusing on youth gardening, nutrition, sustainable growing techniques, and healthy food access. Deputy Director Kara Desmond will hold a workshop on how to grow microgreens in a greenhouse, studio apartment, or whatever space you have available.
We will also be in the information fair speaking about Red Wiggler's programs and mission. The information fair will feature over 50 D.C.-area businesses and non-profits connected with the region's sustainable food movement.
And did we mention this conference is free? Mark your calendars for March 1 from 8:30am-4pm at Wilson Senior High School in Tenleytown!
The event is hosted by DC Greens and collaboratively designed with Capital Area Food Bank, City Blossoms, and Neighborhood Farm Initiative. Click here for more information and to register.