As we mentioned in December, this winter we have been staying busy growing microgreens in our greenhouse and program building.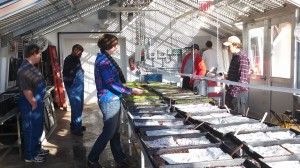 Students from Seneca Valley High School and Ivymount School visit the farm weekly to seed and harvest the microgreens; our Growers and Growers-in-Training are also participating, and working behind the scenes to keep the program running smoothly.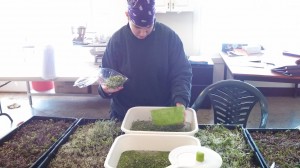 Growing microgreens is an excellent way to put elements of Horticultural Therapy into action. Horticultural Therapy (HT) involves engaging people in gardening and other plant-based activities to achieve specific therapeutic, physical, or vocational goals. Some of the goals that students in our program have been focusing on include signing in when they arrive at Red Wiggler, following written and verbal instructions from staff, and correctly lifting and carrying  the finished microgreen trays.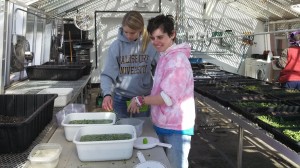 The process of growing microgreens takes just two to three weeks. First we sprinkle seeds (usually radish, beet, or lettuce seeds) into a seeding tray filled with soil, then cover the trays with damp paper towels. We wait a week for them to germinate and sprout, and another week or two for them to grow their first leaves. Then we cut the greens at their stems, rinse and spin them in a salad spinner, and pack them into plastic containers.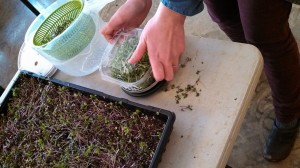 We distribute the finished products to area Group Homes and use them in cooking sessions here on the farm!