Did you know that Red Wiggler produce sales only generate 20% of our annual budget?
We need your support by the close of our fiscal year (September 30th)! Here's why.
This year Red Wiggler is facing a funding gap of $20,000, which will hinder us from reaching our full program potential in the coming year.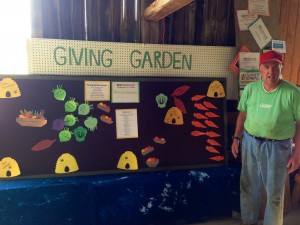 As a 501c3 non-profit organization we depend on financial contributions to keep our doors open and our fields growing. With the end of the fiscal year quickly approaching on September 30th our Board of Directors has pledged an additional $10,000, if matched by our community.
We need you.
The Red Wiggler Giving Garden represents our community's generosity and commitment to Red Wiggler's vision and missions.
If there is ever a time to give to Red Wiggler, it is now.  If you have already given this year, please consider an additional donation.  If you have never given, please do so now. Every dollar counts and every dollar up to $10,000 will be matched by our Board. 
All donations and pledges made will be added to the Giving Garden. Please check our website for updates.  Please help the Giving Garden grow by donating today!
To donate appreciated stock or securities or to donate by phone please call us at (301) 916-2216. Donations can also be made online at www.redwiggler.org/donateonline
Have a Birthday or Wedding Coming up? Give the gift of community farming and education! We'll send them a picture or an email of your message and/or their name on the Giving Garden.
$25 – Cherry Tomatoes
$50 – Carrots
$100 – Kholrabi
$150 – Greens
$250 – Sweet Potatoes
$500 – Beehive Sponsors
$1,000 – Garden Sponsors
Fiscal year ends September 30th, please donate today!