Elaine began working at Red Wiggler as a Grower-in-Training in 2009. She was hired as a Grower in 2011 and now works 2 days a week. Below is Kara's interview with Elaine.
What is your favorite job at Red Wiggler?
The thing I like to do best is peppers. Outside in the fields, I pick the peppers. In the barn I sort the peppers into good and bad piles. Working at Red Wiggler is hard work, but I like doing it.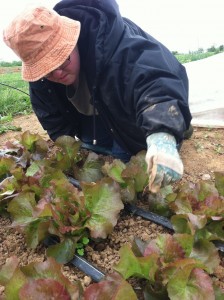 What other jobs do you do?
I weed in the pick your own. There are different kinds flowers and herbs in the pick your own. I pull out the weeds because they are bad for the plants we grow. I even weed in the rain!
What is your favorite vegetable to eat?
My favorite is zucchini. My mom cooks roasted zucchini. I like cucumbers and garlic, too.
What do you like to do when you're not at the farm?
I like to cook a lot. I cook spaghetti sauce, big squash, carrots and string beans. I made a cookbook that has recipes that use Red Wiggler vegetables. I have also made chocolate fruit cake. That is my favorite one!
What is your favorite rainy day job at the farm?
I like to sweep in the barn and sort garlic and onions in the bottom of the barn. I also like to label envelopes and help with projects for the kids that visit the farm.
Do you have anything else you'd like to share?
I have been working at Red Wiggler for a long time. I like to work with all the people here and I like to work outside.