A great night had by all, the Farm to Fork Dinner brought together a crowd of farmers, foodies and friends. Spring vegetables accompanied by great conversation and live music set the tone for lovely evening.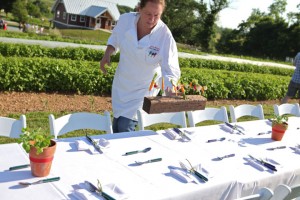 Chef Tom O'Gara designed the menu that was exquisitely executed by Chefs Bart Hosmer and Kathleen Wellington. We enjoyed a garlic scape soup, beets and farro, a field fetched salad, sweet peas with kale pesto, grilled spring onions and chicken and lovely kohlrabi steak with mushrooms and chard. Pastry Chef and Red Wiggler Mentee Mark Mills provided a selection of decadent chocolates.
While the menu looked to feature Red Wiggler's produce, we included fresh ingredients from other local purveyors as well. Some of the local farmers joined the table with us giving diners the chance to talk with the folks that helped get the food to the table.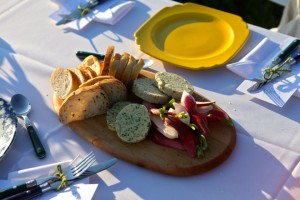 The chicken featured in the fifth course was raised on pasture by Andrew and MK Barnett at Open Book Farm in Myersville, MD.
Rock Hill Orchard graciously shared their baked goods to provide fresh bread that was accompanied by Red Wiggler Radishes and herb butter.
An all star team of volunteers served our guests with big smiles the entire night. We rely on the support of many volunteers
throughout the year and couldn't host
events like the Farm to Fork Dinner without them.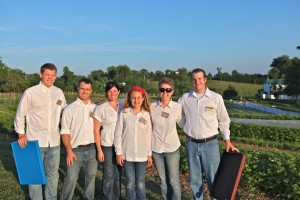 Red Wiggler's 7 acres of fields provided the perfect scene for an evening to remind us where our food comes from. Guests enjoyed a walk through the fields to see the for themselves. A bright blue sky transitioned into a moonlit evening with a slight chill. If you were unable to attend this year's Farm to Fork Dinner, we hope you'll join us in the future!
Clear blue skies and balmy temperatures transitioned into a moonlit evening with a slight chill in the air. If you missed this year's Farm to Fork dinner, we hope you'll join us in the future!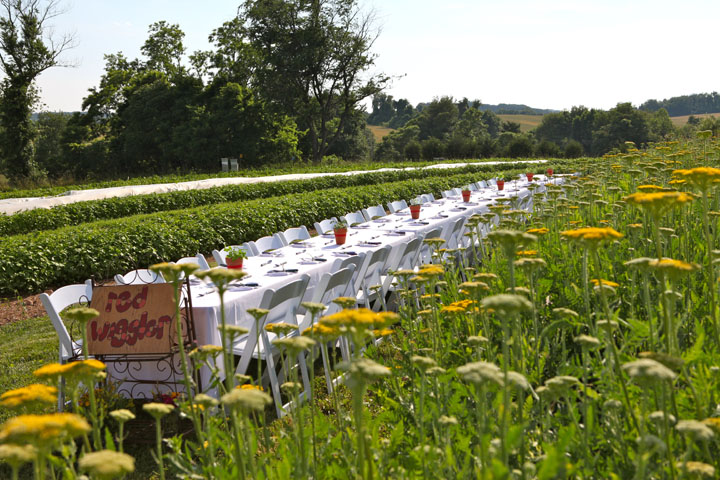 The table set for 40 just before the first guests arrived.