A big thank you to one of our super star volunteers, Claire, for not only sharing this recipe, but also sharing a crock of soup with us!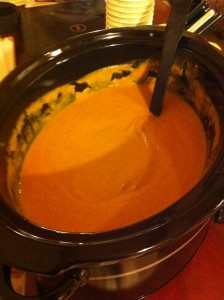 Creamy Sweet Potato Soup Recipe
Ingredients
2 Tbsp (1/4 stick) butter
1 cup chopped onion
2 small celery stalks, chopped
1 medium leek, sliced (white and pale green parts only) *
1 large garlic clove, chopped
1 1/2 pounds red-skinned sweet potatoes (yams), peeled, cut into 1-inch pieces (about 5 cups)
4 cups chicken stock or canned low-salt chicken broth (use vegetable broth for vegetarian option and gluten-free stock for gluten-free version)
1 cinnamon stick
1/4 teaspoon ground nutmeg
1 1/2 cups half and half *
2 Tbsp maple syrup
The leafy tops of the celery stalks, chopped
Method
1 Melt the butter in a large, heavy-bottomed pot over medium-high heat. Add the chopped onion and sauté for about 5 minutes. Add chopped celery stalks and leek, sauté about 5 minutes. Add garlic and sauté 2 minutes.
2 Add sweet potatoes, chicken stock, cinnamon stick, and nutmeg; bring to boil. Reduce heat and simmer uncovered until potatoes are tender, about 20 minutes.
3 Remove cinnamon stick and discard. Working in batches, puree soup in blender until smooth. Return to pot.
4 Add half and half and maple syrup and stir over medium-low heat to heat through. Season soup to taste with salt and pepper. (Can be prepared 1 day ahead. Cool soup slightly. Cover and refrigerate soup and celery leaves separately. Bring soup to simmer before continuing.) Ladle into bowls. Sprinkle with celery leaves.
Yield: Serves 6 to 8.
*Claire's Suggestions: use half the amount of half&half called for, and use green onions if you don't have leeks!
Enjoy! And don't forget, if you have a sweet potato you'd like to share, please email it to kara@redwiggler.org!