Red Wiggler is proud to be part of the first ever #GivingTuesday
The retail sector has benefited for years from coordinating national shopping days around the holidays. Everyone knows "Black Friday" or "Cyber Monday." This year, more than 1,000 corporations and non-profits (including Red Wiggler!) have joined the #GivingTuesday movement that brings the spirit of giving back to the holiday season.
Red Wiggler is thrilled to be a part of the #GivingTuesday call to action.
By supporting Red Wiggler, you are supporting youth and adults with disabilities, inclusive and experiential education, local food systems, and a greener and more sustainable community.
In the spirit of holiday giving, give the gift of farming!
Here's how!
Make a donation to Red Wiggler in honor of someone you care for. We will send the recipient a Holiday E- Card letting them know how the donation made on their behalf will benefit those served by Red Wiggler Community Farm. You can also share your donation on twitter using #redwigglerfarm #givingtuesday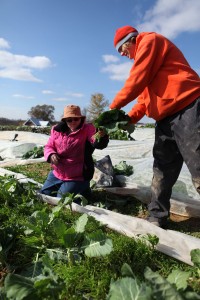 $25-                 Helps purchase seeds for the Growing Season
$50-                 1 Delivery of Organic vegetables to the local food center
$100-               Ergonomically correct cultivating and harvesting tools for our growers
$500-               3 month Share of Organic vegetables for our Farm to Group Home Program
$1000-             Shelving for new root cellar
$2,500-            Adaptive tools and supplies for year-round Greenhouse growing
Visit https://redwiggler.org/donateonline/ to be part of the #GivingTuesday movement today. Thanks for your support!