21st Century Farm House
Imagine heating and cooling your home with the power of the sun.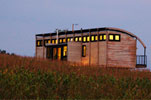 Red Wiggler's new farm house does just that – using 21st-century technology to generate power for heating, cooling, electricity, cooking, and for hot water too.
Beautiful, conservation-oriented and cost-efficient, it is a living example of sustainable and energy-efficient design.
Who Built It?
The Solar House was designed by an interdisciplinary team of University of Maryland students in architecture, engineering and related fields, and built by students and partners, for the U.S. Department of Energy Solar Decathlon in 2005.
Originally, the house competed on the National Mall in Washington DC as one of 20 houses built by academic teams – and received the BP Solar "People's Choice" Award by popular vote of the public.
Donated to Red Wiggler by the University of Maryland, the house is a full-time staff residence for the farm.
Learn more about the 2005 University of Maryland Solar Decathlon House at their website at www.2005.solarteam.org