Frequently Asked Questions
What Is Care Farming?
Care farming is the therapeutic use of farming practices for health, social or educational purposes for vulnerable groups of people and provides a supervised, structured program of farming-related activities. This model is common in Europe where there are multiple support networks.
Do all Care Farms focus on the IDD community?
Not necessarily. There are many varieties of Care Farms. All of them work to provide social or specialist educational care services for individuals from a range of vulnerable groups. This could include people with mental health problems, individuals suffering from mild to moderate depression, those with a drug or alcohol addiction history, disaffected young people, adults and people on probation.
Why focus on Care Farming for individuals with disabilities?
In the United States,  individuals with disabilities have been historically underserved. Many young people & adults living with developmental do not have access to meaningful employment. In June 2018, the United States Bureau of Labor Statistics reported that only 18.7 percent of persons with a disability were employed, compared to the 65.7 percent employment for those without a disability. 
The 2018 Mid-Atlantic Care Farming Summit
Red Wiggler hosted the first-ever Mid-Atlantic Care Farming Summit on October 16th, 2018.
The conference was co-produced by Future Harvest CASA.
We identified 19 farms from 6 different states in America and Italy that work specifically with adults with developmental disabilities. Until recently, space for these outfits to come together to learn from each other and advance the field did not exist. While each organization is different, each has similar struggles. We benefited immensely from this day of sharing information around issues of vocational training, horticulture therapy, training staff, and building an inclusive community.
The Day's Events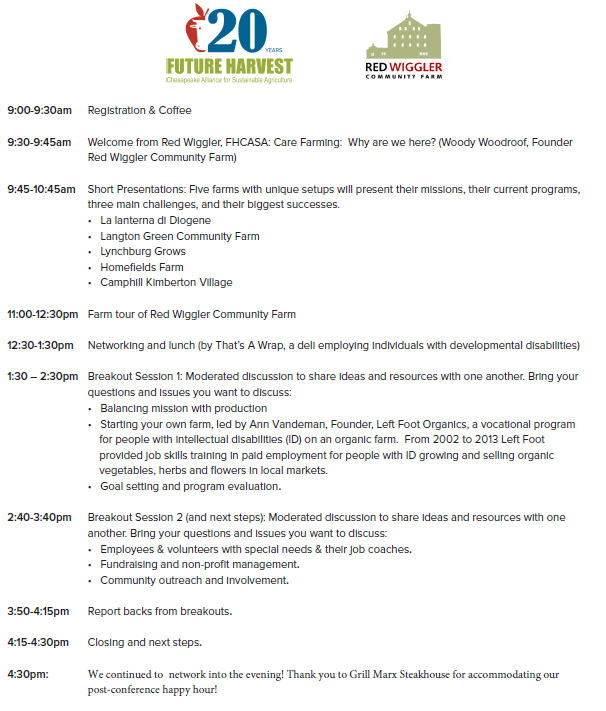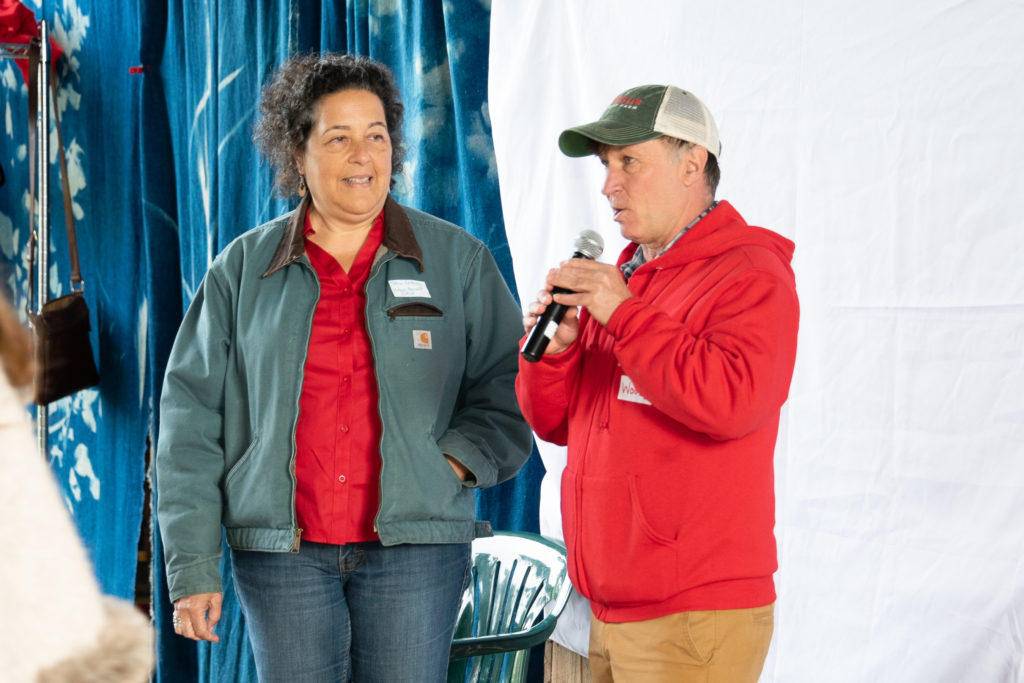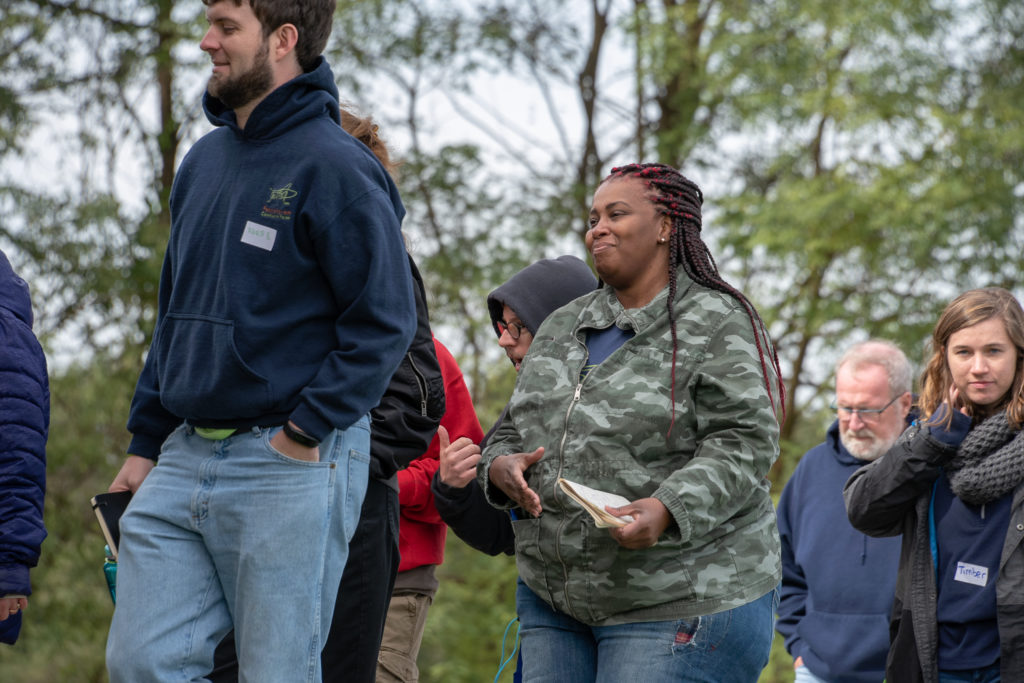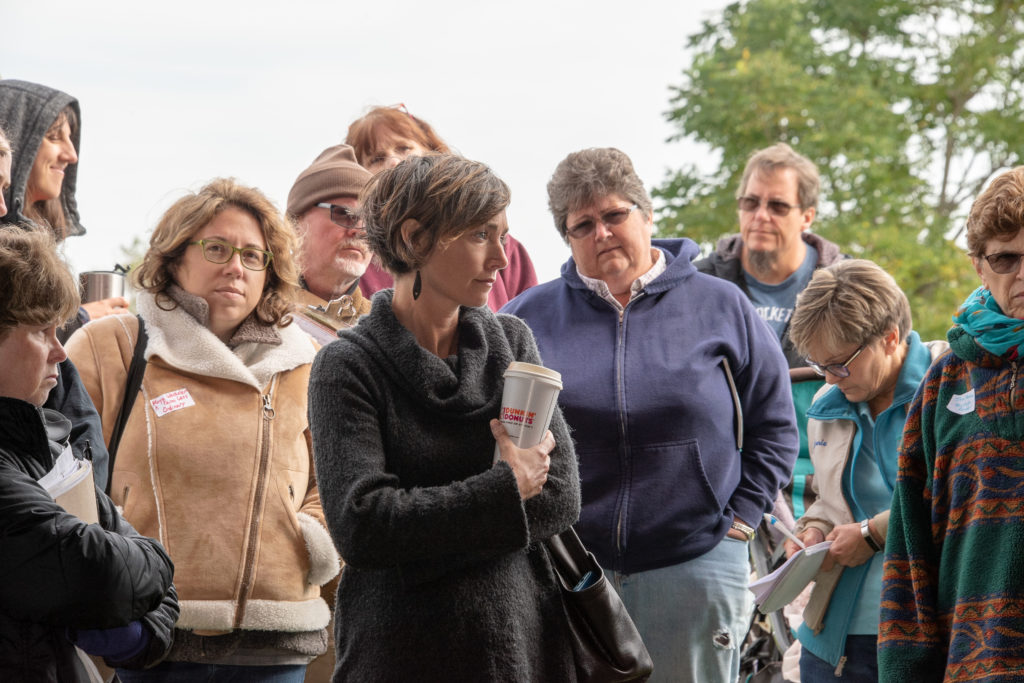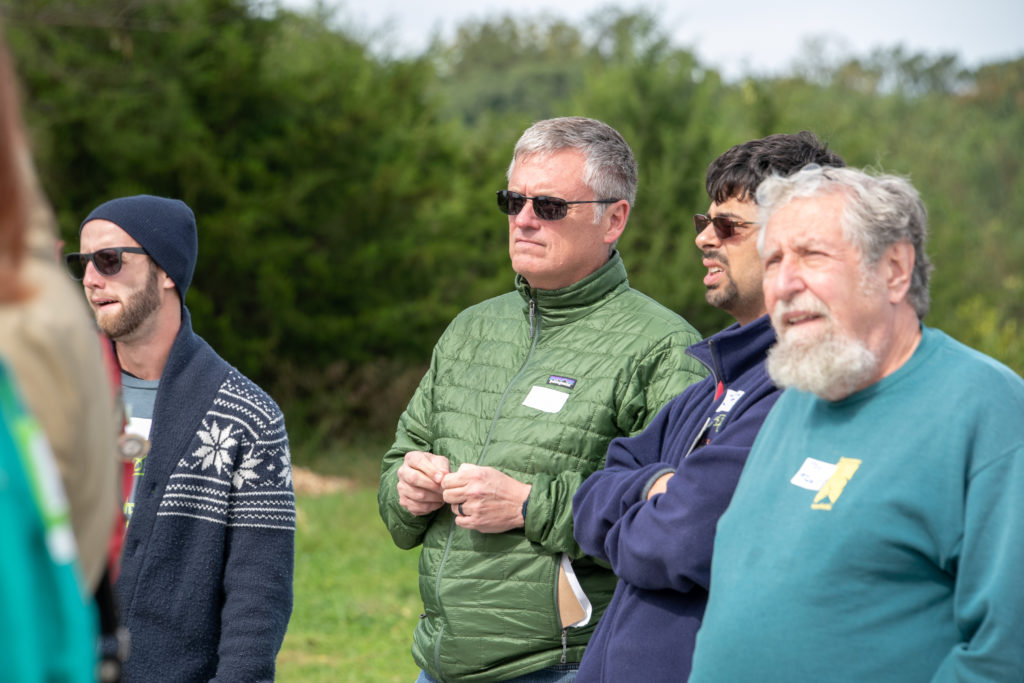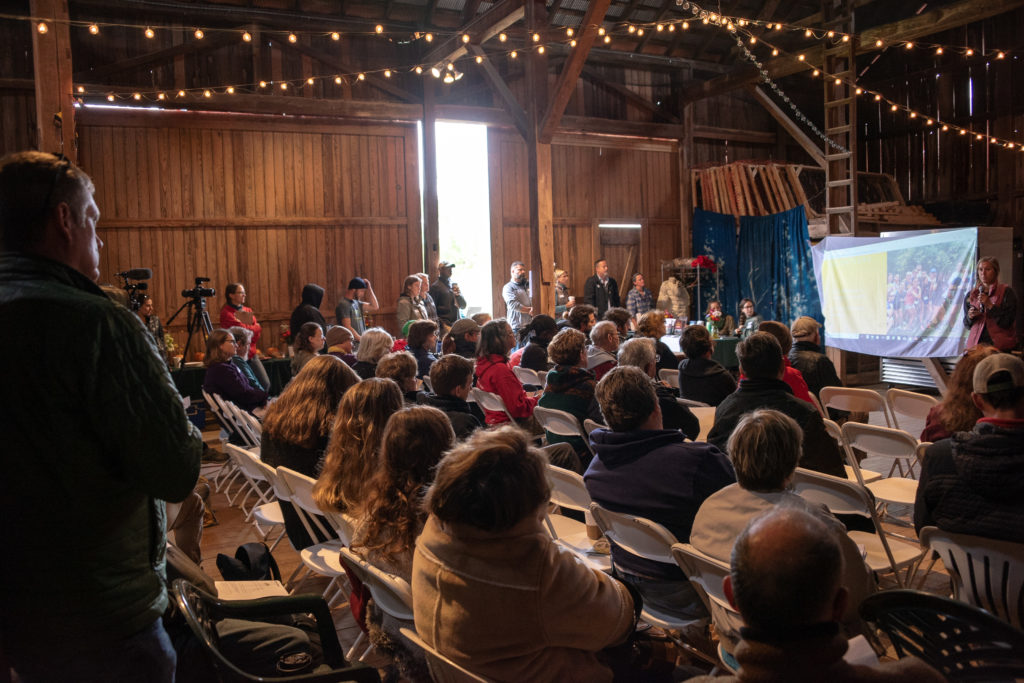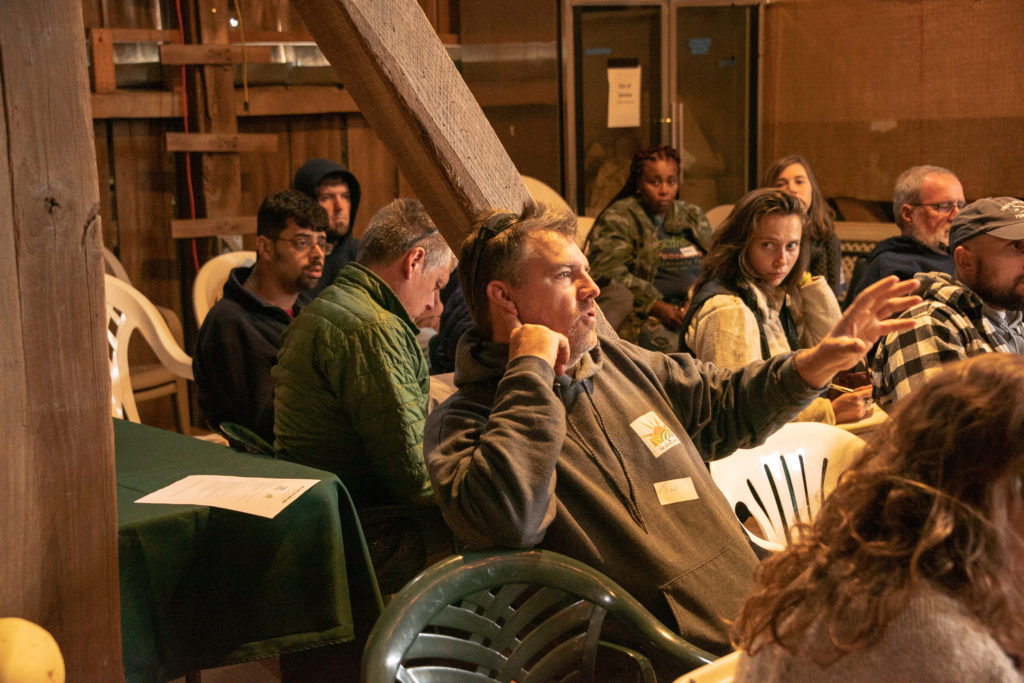 Click below to learn about these Care Farms and how you can support their work in the region.  
What Is Red Wiggler's Story?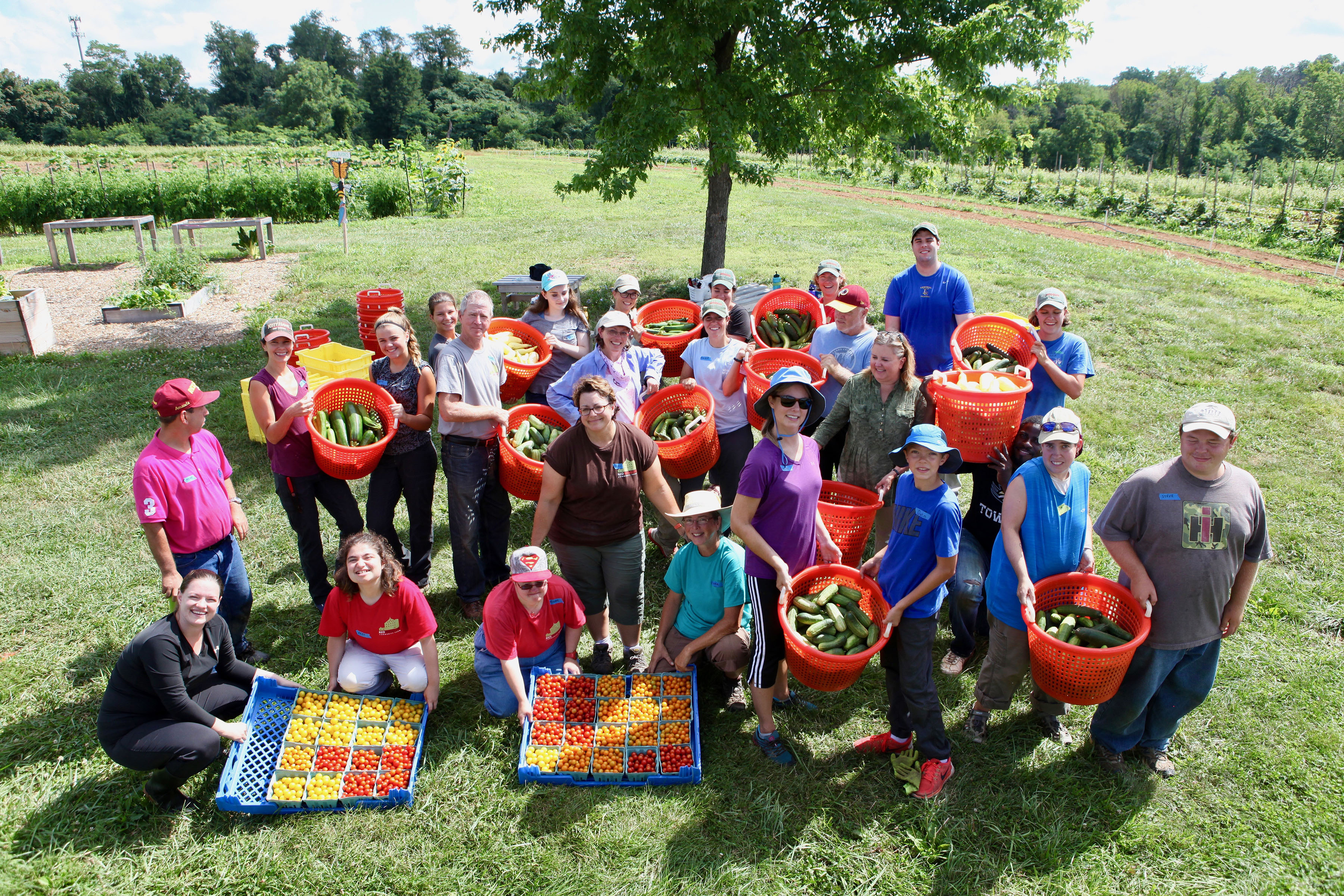 Red Wiggler Community Farm is a recognized 501(c)(3) nonprofit located in Montgomery County, Maryland. Founded by Woody Woodroof in 1996, Red Wiggler provides meaningful employment for adults with developmental disabilities through a unique horticultural program that uses organic agricultural practices.
Red Wiggler's Grower program focuses on building a vocational structure that identifies and builds on the capabilities of our clients who have developmental disabilities. We assign our clients (known as "Growers") farm tasks based on their abilities. Our staff then nurture Growers through their tasks. Our Growers cultivate vegetables on seven acres and then sell or donate the yield to a diverse, local population. Click here for more information on our Grower program.
In Red Wiggler's 22-year history, we have evolved and adapted our programs to the ever-changing needs of our community. Our staff and board continue to use strategic planning to fine-tune our existing programming and develop a vision for the future. A part of this vision is to become a leader in developing educational programming and resources for farms that wish to adopt our employment and vocational training practices. Click here for more on our history and mission.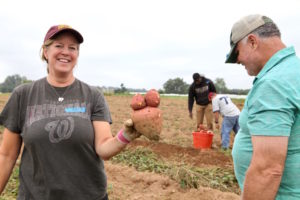 "I didn't have a lot of experience working with people with developmental disabilities, and I will admit I was a little nervous at first... But that went away in about 5 minutes, because of how the staff has structured a program that is so inclusive, meets everybody's needs, and really focuses one-on-one."
-Katie Sebastian, Board Member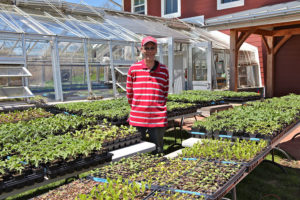 "With people who have never known what to do on a farm, I like teaching them all about the vegetables, where they're coming from. If I'm the leader, I'll be teaching two or three kids what to do, correcting how to do it, how not to do it. But I always, when I teach them, I do it with a positive attitude. I'm happy that I get to be a teacher."
-David Ruch, Grower
Thank You to Our Partners & Sponsors