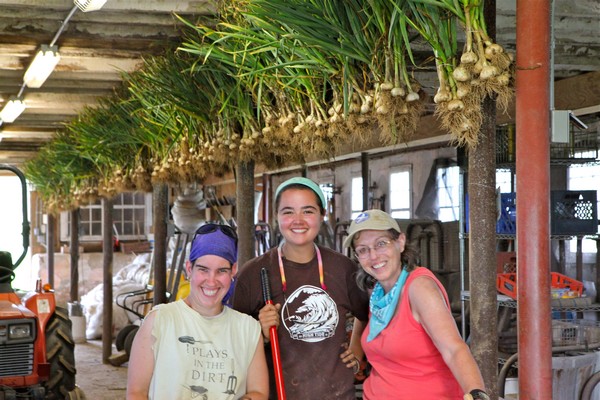 Individual Volunteers
We could not do what we do here at Red Wiggler without volunteers helping in the fields, being willing to expand their skills, getting to know the Growers and sharing their expertise.  We are always looking for individuals who have the time and dedication to commit to Red Wiggler.
Thank you for your interest!
How to Apply:
Thanks for your interest. Please follow the instructions below and we will be in touch soon!
1) Sign-up for and attend a volunteer orientation (dates in yellow to the left).
2) Read Red Wiggler's Volunteer Policies.
3) Fill out the Youth Volunteer Application (17 years and under) or Adult Volunteer Form
(18 years and up) and return it to Katie Junghans.
4) If you are over 18 years old, complete an online Background Check.
5) Sign-up for volunteer dates with the Volunteer Coordinator.
Please contact Volunteer Coordinator, Katie Junghans with any questions.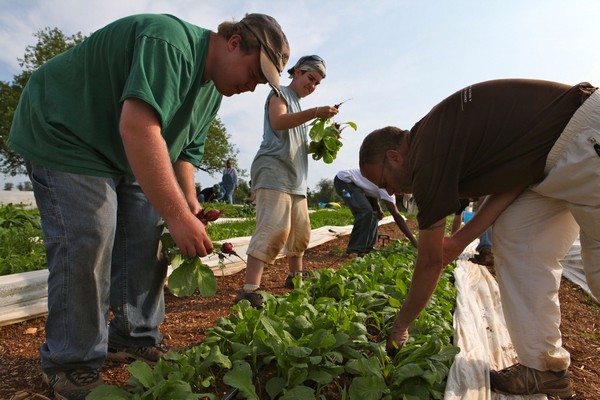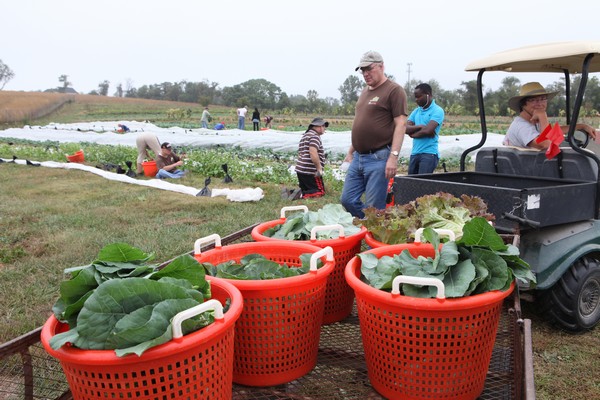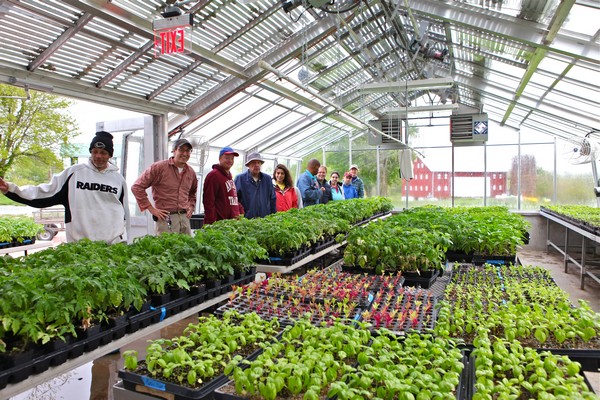 Who can volunteer?
We welcome volunteers of all backgrounds, experience levels and abilities. Our past volunteers have consisted of students earning service learning hours, teachers off during the summer holiday, retired adults, individuals with disabilities or injuries and many others.
We require that volunteers are able to follow directions, work well with others and complete tasks with limited supervision and prompting. 
An interest in farming is helpful and being comfortable working outdoors with many different people is paramount. All ages are welcome, however volunteers under the age of 13 should be accompanied by an adult. The ideal volunteer can commit to a regular schedule  of 20 hours or more over the course of a growing season however those interested in volunteering for less than 20 hours may still apply. 
When can I volunteer?
Volunteers are needed April- November, Monday- Friday 9am-2pm.
Are there volunteer opportunities other than farming?
Most of our opportunities are in the fields, doing the real farming work. However, we do have occasional opportunities for those interested in events, education and administrative work. Please contact Molly McCracken for further information.
Volunteer-In-Training Program
This year we are launching a pilot program to accommodate adult individuals with disabilities who wish to volunteer and who presently require one-on-one instruction in order to be successful. The end goal is to give the individual the tools to work successfully as an individual volunteer at Red Wiggler and eventually be able to integrate into the larger group. Please note, this opportunity does not lead directly to employment at Red Wiggler.

Description: Volunteers-In-Training will work one-on-one with Education and Outreach Coordinator, Molly McCracken, on skills related to farming and vocational social skills. Individuals will become familiar with tasks related to planting, harvesting, post harvest (sorting, bagging, weighing), field maintenance (weeding, raking, mulching), and tool safety.

Time Frame: Individuals will spend 2.5 hrs one day a week at Red Wiggler for 8-10 weeks beginning the week of June 27th. The first 1.5 hours will be spent working. The following hour will be spent having lunch with other volunteers, Growers and core-staff.

Details:
- Those accepted into the program must attend each week with a job coach or support person.
- This is a pilot program, space is very limited for the 2016 season but we will be happy to put people on a wait list once the spaces are filled.

How to apply: Fill out the Adult Volunteer Form  and return to Katie. Please also contact Katie to let her know you are interested in applying for the Volunteer-In-Training program specifically.