Crew Leader Job Description
The Crew Leader will lead a crew of volunteers and growers (adults with developmental disabilities) on all farm tasks including seeding, planting, weeding, harvesting, post harvest handling, and field maintenance tasks.  The Crew Leader will be responsible for making sure that their team finishes each job accurately, efficiently, and inclusively according to each person's abilities.  The Crew Leader will also work independently on farm tasks when needed.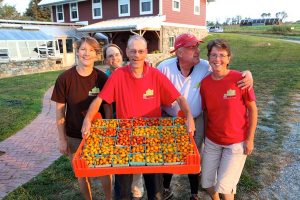 The Crew Leader will need to have a positive attitude, enjoy farming and working outside in all conditions.  The Crew Leader will be expected to motivate their team to get their tasks done and to communicate clearly back to the Farm Manager how the tasks went and what got done.  The Crew Leader will work alongside our growers and volunteers each day and will be expected to lead and teach by example and demonstrate a strong work ethic.
A typical work day starts with the Farm Manager explaining the tasks for the day.  We usually have 3-4 teams each day that will be working together and independently to get the farm tasks done for the day.  The Farm Manager will assign out tasks and divide the groups into teams of grower and volunteers each day.  We usually work from 8am-noon, take 1 hr lunch break and then from 1-4pm. 
Desired Knowledge, Skills and Abilities
1-2 growing seasons farm experience
Interest in working with adults with developmental disabilities and youth
Demonstrated leadership experience
Desire to lead the work of others
Ability to motivate others under difficult conditions (like weather!)
Good communication skills, desire to work collaboratively as part of a larger
team
Ability to follow a plan and to be flexible and adapt the plan when needed
Ability to balance attention to detail while also working efficiently, understanding what other tasks need to get done
Willingness to perform physical farm labor. Must be able to lift 50 pounds
Have a positive, enthusiastic, and supportive attitude.  Willing to have fun with job
Non-smoking work environment. No pets!
Time Commitment
This is a seasonal hourly position from April – Sept (with a possible option to continue in the fall.)  40 hours/week with typical day 8AM-4PM (Mon-Fri); starting earlier during the summer
Compensation
Hourly wage of $12/hour plus a weekly share of certified organic vegetables
There is no on-site housing, but we can help find local, affordable housing.
Application Instructions: Please send letter of interest and resume via email to andrea@redwiggler.org. Must be prepared to provide 3 references.