Meaningful employment for adults with developmental disabilities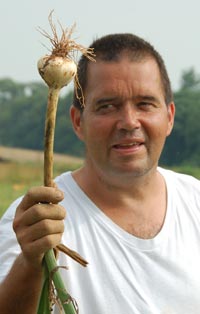 Red Wiggler Community Farm (a recognized 501(c)3 non-profit) is located in Montgomery County, Maryland. Founded in 1996, Red Wiggler's main tenet is to provide gainful employment for adults with developmental disabilities through a unique horticulture program. The bulk of this program focuses on building a vocational structure that identifies and builds on the abilities of our clients with developmental disabilities such as Autism, Downs Syndrome, and Mental Retardation. We call our clients "growers". We assign the grower's farm tasks based on their individual abilities. These abilities are nurtured by our staff. Tasks undertaken by the growers include growing and selling vegetables, taking care of a chicken flock, and maintaining fields, barns, and equipment. Our growers cultivate vegetables on six acres in Montgomery County, MD and then sell or donate this produce to the community. We serve the Montgomery County community in the following ways:
Community Supported Agriculture (CSA)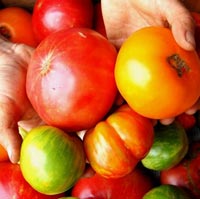 This is a unique program in which families "subscribe" to our vegetable harvest during the summer for a set price. Weekly for 26 weeks each subscriber comes to the farm to pick-up an overflowing box of whatever vegetables are being harvested that week. In this way, the customer supports our social mission while also enjoying delicious vegetables at an affordable price. Not only do customers learn which vegetables grow in which season (no, tomatoes aren't harvested in June!), how different vegetables grow in different conditions, and understand where their food comes from, but they also provide valuable social and business interaction for our growers. In 2011, Red Wiggler hosted over  100 families in its CSA program. These 100 shares included shares for 10 group homes in Montgomery County and 5 shares for Manna Food Center.
Local Markets
We also sell at local markets and to local restaurants. One of our favorite markets is the Leisure World Farmer's Market in Silver Spring. Leisure World is a large retirement community where we market our fresh produce once a week throughout the summer. We are happy to be able to provide a senior population with nutritious, homegrown, affordable vegetables. The transaction between customer and grower provides immeasurable pride and reward for our growers. We held 6 farmer's markets at Leisure World Maryland in 2011 during the peak of tomato season.
Gleaning for Food Banks
Additionally, our growers harvest and deliver food to the Manna Food Center in Rockville, Maryland. We have donated over 19,000 pounds of vitamin-rich, fresh produce to area food banks since 1996 (averaging 2,180 lbs. in 45 trips annually). This transaction allows our growers the sense that they are giving back to the community, which again, is a source of tremendous pride and reward for these growers. We delivered 4,884 pounds of produce to MANNA in 2011.
Farm to Group Home
With the help of a USDA Community Food Project grant, a Montgomery County Health and Human Services grant and a gift from Woodbourne Solutions we have been working to ensure low-income adults with developmental disabilities living in group homes have access to fresh local produce. In 2007 we completed a Planning Project and began a pilot program by donateing 602 pounds of produce to group homes. In 2008 we have expanded the pilot program. As a result we have inpacted over 60 people already this growing season with regular harvests to fresh produce.